Want to link to Free-genealogy.co.uk? Send an email HERE with your website URL. Don't forget to link back! (Due to amount of emails this could take a couple of weeks)
SITE LISTINGS >> Organisations
Looking for a list of Genealogy focused organisations? Then scroll below and discover sites that offer great membership deals for genealogy enthusiasts, free information and much much more.
National Genealogical Society - a guide to the Internet for genealogists, lists of CIGs by state/country, genealogy BBS list, genealogy calendar, etc.
Society of Genealogists - national society for family historians in the U.K.
Federation of Genealogical Societies - organisation comprised of genealogical and historical societies, family associations, and libraries.
Irish Family History Foundation - network of government approved genealogical research centres in the Republic and Northern Ireland which have computerised Irish ancestral records of different types.
Irish Ancestral Research Association - nonprofit organisation for the study of Irish genealogy and history.
Association of Personal Historians (APH) - organisation whose members help others preserve their life stories and memories.
International Internet Genealogical Society - attempting to create better ways to share genealogical research.
International Black Sheep Society of Genealogists - society of genealogists who have found black sheep in their families.
Birmingham and Midland Society for Genealogy and Heraldry - genealogical and heraldic society for the counties of Staffordshire, Warwickshire, and Worcestershire.
America's First Families Genealogy Society - online genealogy society dedicated to honour our 1600's American Colonial Ancestors.
Buckinghamshire Family History Society
Genealogical Forum of Oregon, Inc. - to create an interest in genealogy, and to share, compile and publish genealogical and historical materials.
Genealogy Helplist - volunteers are willing to help others by looking up specific items at institutions near them, or help supply other information easily accessible to them.
Oregon Genealogical Society - containing a lists of early Oregon Pioneers.
Berkshire Family History Society - society which promotes contacts between people with an interest in genealogical and family history research.
Achievements of Canterbury - international research organisation devoted to genealogy, heraldry, history, and associated artwork.
African American Genealogical Society of Northern California - promoting the study and preservation of records of a genealogical and historical nature relating to African American ancestry.
Sole Society - a family history society researching Sole, Solley, Sewell, Saul and allied surnames.
Rockwell Family Foundation Website - source for the Rockwell surname on the Internet. We have GEDCOM's, vital records, photos and much more!
Computer Genealogy Society of San Diego - an association of people using personal computers in the pursuit of their genealogical research.
East of London Family History Society
Island Routes - exploring Portuguese Hawaiian heritage through genealogy. Features articles, vital records, surname queries, and links.
Afro-American Historical and Genealogical Society, Inc. - strives to preserve African-ancestored family history, genealogy, and cultural diversity by teaching research techniques and disseminating information throughout the community.
Clare Heritage and Genealogical Centre - offers professional service for anyone wishing to trace their Clare ancestry in Ireland.
Bedfordshire Family History Society
Genealogy World at ENOCH.COM - provides a question and answer forum, online datafiles, and general help with genealogical pursuits.
Irish Family History Society - publishes an annual journal containing many Irish lineages.
West Lothian Family History Society - promotes the study of family history and genealogy in West Lothian.
Kildare Heritage & Genealogy Co. - genealogical resource for County Kildare, Ireland.
Dead Persons Society (DPS) Melbourne - genealogists assisting others. Search our members' surnames, leave your queries in our guest book, or join us for a chat.
Genealogy Friends of the Gladys Harrington Library - nonprofit organisation formed to support the genealogy section of the library with volunteer opportunities, collection donations, and educational programmes.
Northern Ireland Ancestral Heritage - listing of genealogical resources.
Thomas Osgood Bradley Foundation - nonprofit organisation formed to promote the research of the genealogies and history of early New England settlers in the River Plate area.
Genealogy: Genealogy Service in the National Archives - family history and genealogy resources.
Genealogy records:
Having trouble finding your family history records? Enter your Surname here!
Read news releases and articles concerning the latest Online family records:
Search over 600+ Historical Databases
Search for Genealogy records online!
Genealogy Search Tips - review 1
Getting started with Genealogy
Click to search about:
Old News Archives:
January 2006
Feburary 2006
March 2006
April 2006
May 2006
June 2006
July 2006
August 2006
September 2006
October 2006
November 2006
December 2006
2007 Archives
2008 Archives
2009 Archives
2010 Archives

More Resources
Additional information about the your Genealogy
Genealogy Records
Having trouble viewing your family history documents? Click here for FREE samples
(Acrobat Reader Required)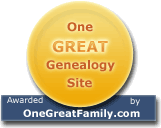 Research your
genealogy
at
OneGreatFamily!