Ancestry.co.uk has a huge online database but you need to know how to use it in order to get the best results from it. Here's the information you need in order to get started.
What is an exact search?
Exact searching gives you complete control over your search results because each record that is returned must match all of the search terms you enter. Only matches that meet your criteria exactly are returned in the search results list.

Get the most out of an exact search
To get the most out of an exact search, you should probably start with only one or two broad search criteria (e.g., a surname and a location). If you get too many results, gradually add more criteria to narrow your search. If you get too few results, drop one or more of your search criteria to broaden your search. Continue this process until you gradually hone in on the record for which you are searching.

Ancestry global search
The Ancestry global search feature provides faster access to a wider variety of genealogical data than any other genealogy site on the Internet. Simply enter the first name and last name of an ancestor and click "Search." Using a powerful search engine, your query will be matched against thousands of genealogical and historical databases, all with one simple search. A results page with any relevant databases in the Ancestry collection will appear. Just click on a database or a category to view the material in question.

Once you have searched for an ancestor in our collection, you may want to broaden or narrow your search focus to look at additional data (or filter out irrelevant material). Try a search with just the last name entered to see any database containing that particular name. To narrow your search, you might also include a locality. Including a locality will provide a different set of results than would a search without a designated geographic area. When you specify such a focus, the results page will also include links to maps and additional reference materials that can be used for further research.

Common names
Some Ancestry results may not help you in your research, even though they technically match your query terms. This is especially true if you are researching an ancestor with a common name. You may want to filter your search by locality, keyword, or other options to filter out unwanted results.

Time periods & geography
Many databases contain information that extends beyond one geographic location or time period. When this is the case, you may receive results that are outside the selections you designated in the original search. The GlobalSearch template allows users to filter searches to a specific locality.

Increasing the number of results
You can often increase the number of applicable results you receive when using global search. One method is to always include a locality when performing a search. By including a geographic area you are telling the search engine to find information related to that locality as well as any information based on the name provided. Searches that include a locality will provide links to additional reference materials, maps, links, and any other data related to that location.

A second method to increase the number of results is to leave the first name blank. Some databases may not include all given names and others might include nicknames or alternate spellings.

A third way to increase the number of results is to try different spellings of the last name. Many last names have changed spellings over time. Trying various spellings can therefore often increase the number of matches and also provide additional insight into family histories. In addition to trying other spellings manually, Ancestry also provides an automatic alternate spellings search option called SOUNDEX.

Searching specific databases
You may perform a global search and find a compelling database that you would like to spend more time searching on its own. Or you may be interested in the source and a description of the database. You can view information about a specific database by clicking on the information icon next to the database on the search results screen.

You will then be taken to the main page of the database, which includes a search interface for the database, the database's bibliography, and a description of the database.

Wildcard searching
Wildcard searching is available for all text on the site, in both free and subscription databases. Wildcards are special symbols (the asterisk "*" and the question mark "?") which are used in searching to represent some number of unknown letters in a word.

Wildcards can be effective query tools if you are searching for words or names with alternate spellings, but do not wish to view all the extra matches that SOUNDEX searching can create. You can also use wildcards to view all words that begin with the same stem. For example, a search for "fran*" will return matches on words like "Fran, Franny, Frank, Frannie, Frankie."

Other helpful wildcard searching examples:

--An asterisk "*" represents zero to six characters (e.g., a search for "john*" might return "john, johnson, johnsen, johnathon, johns", etc.).

--Any use of the asterisk requires at least the first three letters of a name (you cannot search for "Ad*", but could use " Ada*").

--A single character is represented by question mark "?" (e.g., "Sm?th" equals both "Smith" and Smyth").

Subscription & free databases
You do not need a subscription to perform a search using Ancestry GlobalSearch. Executing a search will display all of the databases relevant to your query, regardless of whether or not you subscribe to Ancestry. Additionally, you can view the actual results in many databases without subscribing to Ancestry. The free databases are designated by a special document icon.

The majority of Ancestry databases are subscriber databases. These databases require a subscription. These databases are designated by a special padlock icon to the left of the database.

Subscribers are given a username and password that allows them to access any of the databases located at Ancestry. To access all of the data located at Ancestry, Subscribe now!
Genealogy records:
Having trouble finding your family history records? Enter your Surname here!
Read news releases and articles concerning the latest Online family records:
Search over 600+ Historical Databases
Search for Genealogy records online!
Genealogy Search Tips - review 1
Getting started with Genealogy
Click to search about:

News Archives:
January 2006
Feburary 2006
March 2006
April 2006
May 2006
June 2006
July 2006
August 2006
More Resources
Additional information about the your Genealogy
Genealogy Records
Having trouble viewing your family history documents? Click here for FREE samples
(Acrobat Reader Required)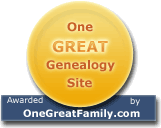 Research your
genealogy
at
OneGreatFamily!