Welcome to the Bedfordshire County, Town and Parish page
Welcome To Bedfordshire Genealogy
Searching for information in Bedfordshire? This section of the site aims to become a collection of links for all Bedfordshire Genealogy research.
Bedfordshire Family History Society is a well-established organisation, since its beginnings in 1977, with a steady membership of about 1,000. The area covered by the Society is the historic county of Bedford, including Luton.
Much is on offer to researchers with interests in this southerly part of England, such as the Society's extensive library from which attendees at the monthly meetings in Bedford can procure books on loan; and a bookstall, with over 350 publications on family history and Bedfordshire, which are also available at meetings or by post.
Best of all are the Society's own publications making Bedfordshire records more accessible to all, and the "Bedfordshire Family History Society Journal" which is distributed each quarter to members near and far with its listings of their personal family history interests, articles about research and Bedfordshire, and general information on events etc.
The website at www.bfhs.org.uk also lists members' research interests, publications in detail, useful research services and much, much more.
Bedfordshire FHS is a registered charity (no 281677), is a member of the Federation of Family History Societies, and an active member of the East Anglian Regional Group of Family History Societies.
For further details on joining the society, or if you have general enquiries, please see the website or contact bfhs@bfhs.org.uk
Bedfordshire Ancestry Message Board
Ancestry record sets for Bedfordshire
Title

Category

Places

Name Count Estimate

Bedfordshire

, England: Parish and Probate Records
Court, Land, Wills & Financial
England; United Kingdom; Bedfordshire; Europe
44,736
The Orlebar chronicles in

Bedfordshire

and Northamptonshire, 1553-1733, or, The children of the manorhouse [sic] and their post
Stories, Memories & Histories
USA
6,443
The history of a

Bedfordshire

family : being a history of the Crawleys of Nether Crawley, Stockwood, Thurleigh, and Yelden in t
Stories, Memories & Histories
USA
5,763
Visitations of

Bedfordshire

, 1566, 1582, and 1634
Stories, Memories & Histories
England; United Kingdom; Bedfordshire; Europe
4,148
Pedigree of Acworth of

Bedfordshire

, etc. : together with some notes on the genealogy
Stories, Memories & Histories
USA
1,003
Some records prior to 1700 of White of

Bedfordshire

, Buckinghamshire, Hertfordshire, Huntingdonshire and a few of other English
Stories, Memories & Histories
USA
748

Bedfordshire War Memorials & Rolls of Honour - Review current Bedfordshire war memorials and rolls of honour or add your own.
Bedfordshire Societies
Bedfordshires main societies address is -
Bedfordshire Family History Society
PO Box 214
Bedford
MK42 9RX
ENGLAND
More Resources
For further resources and FREE GENEALOGY links refer to Rootsweb.com and their Bedforshire section - Here
Genealogy records:
Having trouble finding your family history records? Enter your Surname here!
Read news releases and articles concerning the latest Online family records:
Search over 600+ Historical Databases
Search for Genealogy records online!
Genealogy Search Tips - review 1
Getting started with Genealogy
Click to search about:
News Archives:
January 2006
Feburary 2006
March 2006
April 2006
May 2006
June 2006
July 2006
August 2006
September 2006
October 2006
November 2006
December 2006
More Resources
Additional information about the your Genealogy
Genealogy Records
Having trouble viewing your family history documents? Click here for FREE samples
(Acrobat Reader Required)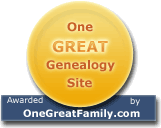 Research your
genealogy
at
OneGreatFamily!