Want to link to Free-genealogy.co.uk? Send an email HERE with your website URL. Don't forget to link back! (Due to amount of emails this could take a couple of weeks)
SITE LISTINGS >> Heraldry >> Shops and Services >> Nobility Titles
Heraldry is a growing interest in the genealogical circle and new sites are springing up every day. A good overview of some of the best sites that can help you find your Heraldry are listed below
Digital Collection: Heraldry - describes Canada's uniqueheraldry and armorial tradition.
Heraldry on the Internet - offers links and information for heraldry research.
Francois Velde's Heraldry Site - hundreds of articles, images, and links on heraldry from the Middle Ages to the present and around the world.
Heraldry Links - directory of sites pertaining to heraldry and the study of coats of arms.
Elizabethan Heraldry - offers historical background on coats of arms and armory.
Civic Heraldry of England and Wales - offers glossary of heraldry terms and examples of English and Welsh heraldry.
HeraldicAmerica - devoted to North American heraldry, especially Canadian.
Coats of Arms from Ireland and Around the World - features galleries, articles, heraldry customs and practices, and more.
Heraldry in Macedonia - features historical information and images of personal, corporate, municipal, and national heraldry.
Heraldry Society of Canada - promotes the heraldic traditions of Canada.
Glossary of Terms Used in Heraldry - offers a comprehensive list of heraldic terminology. Includes illustrations, synoptical tables, and a gallery of images.
Heraldry and Coat of Arms Web Ring - created to gather sites which deal primarily with heraldry and arms of all countries.
EarlyBlazon.com - provides examples of early coat of arms drawn from the Albigensian Crusade (also known as the Crusade against Cathars). Includes background.
Heraldry and Vexillology - International Federation of Vexillological Associations.
Keltic Heraldry - offers a brief lexicon of heraldic terms and information on the basics of Keltic heraldry.
LeForte, Stewart - Coat of Arms - description of coat of arms granted to J. Stewart A. LeForte, with links to orders of chivalry and heraldry.
Imperial College of Heraldry of the Holy Roman Empire - offers information about coats of arms and heraldic matters pertaining to the Holy Roman Empire.

Interested in Genealogy Shops and Services? Then take a look below at the latest list of family history sites to visit.

Guild of One-Name Studies - international organisation for everyone interested in one-name studies.
Sgian Dhu Interactive - information about hundreds of Scottish clans and tartans available online, with more detailed versions for sale on CD-ROM; company offers multimedia and Internet design services.
Tree Maker, The - produces fan-shaped family tree wallcharts that can display over 500 names and eight generations.
Concepts Products - offers a variety of products and services with a focus on heraldry products such as surname histories and original coat of arms prints, glassware, rings, and others as well as infrared saunas.
House of Names - offers free name search and excerpt from your history. Shopping for surname history scrolls, family history, and coats of arms.
Fleur-de-lis Designs - provides traditional design and personalised coats of arms and family crests.
Family-crests.com - offers coats of arms and family crests, researched by heralds, and illustrated by artists.
Irish Surnames - offers family crests and coats of arms.
Coat of Arms Store - sells coats of arms and family crests.
Annie & Frédéric Luz - European family coat of arms research, heraldry FAQ, and products.
Kane Ancestral Map of Ireland - provides the lineage of over 750 ancient Gaelic families that are descendants of the Royal Milesian line.
Heraldic Sculptor to the British Royal Household - specialising in coat of arms and crests.
Heraldry and Crests - purchase coat of arms, name histories, plaques, parchments, crests, wappens, and more.
Coat-arms.com - offers framed and unframed prints as well as downloadable versions of coats of arms.
LastName.com - providing family crests and coat of arms on prints, glasses, shirts, plaques, and more.
Name Center, Inc. - researching the history of family names.
Name Heritage International - offering family name history, coat of arms, and heraldry.
Fake Titles - Richard, 7th Earl of Bradford, warns the unwary that it's impossible to purchase a genuine British title.
Historical Names and Heraldry - offers coat of arms, family name histories, heraldic rings, embroideries, and glassware.
Family-Crest.com - offering coat of arms and family name history gifts.
Name Traces - Trace your name back to its origin. Makes a great gift for anyone!
Family Coats of Arms - researchers and manufacturers of family coats of arms; ships products worldwide.
Heraldica para Apellidos de Origen Español - heraldry, genealogy and coats of arms for surnames of Spanish origin.
Sheba Imports - offers rings, badges, and family crests. Also deals with military and corporate insignia.
FamilySpheres - preservation and archiving of family history on compact disc. Services also include photo scanning, enhancement and repair.
Coat of Arms - printing family crests and surname histories for most European names.
Pewter Plaques, Inc. - specialise in coats of arms.
Old World Family Names - providing Coats of Arms and name histories for names from throughout the world.
G K Beaulah & Co - makers of hand-painted family coats of arms, heraldic crests, wall shields, and military badges.
Viles Genealogy - genealogy for the Viles family from 1700's to present.
European Coats of Arms - sells heraldries of surnames and coats of arms with family names, genealogy, and historials.
Heritage Crests - offers products bearing family coat of arms, including plaques, scrolls, mugs, and more.
Family Crests UK - sells hand-painted wall shields, plaques and gifts as well as individual family coats of arms.
Tangibles - offers Bibles, letters, photographs, deeds and similar ephemera which provide evidence of ancestors. Organised by family name.
Heritage Store, The - offers unique coats of arms and surname histories, professionally researched and guaranteed for authenticity.
Military Heraldry - sells heraldry items from the United States Army including shoulder sleeve and distinctive unit insignias, and heraldic devices.
Family Crests - offers family crest e-mailed to as an email attachment.

Interested in Noblitiy titles? Search these sites to discover your royal roots!

Elite Titles - offers the opportunity to become a Lord, Lady, Baron, Duke, Countess, Marquis, Sir, and more.
Elite Titles - offers English and Continental titles including Lord, Lady, and Baron.
Fake Titles - Richard, 7th Earl of Bradford, warns the unwary that it's impossible to purchase a genuine British title.
Hay Peerage - confers titles of nobility including Dukedoms, Earldoms, Baronies, and Knighthoods.
Noble Titles - offers fully accredited historic titles.
titles4sale.com - sells titles such as Lord, Lady, Sir, Count, and Countess.
Aristocratic Titles - offers select Lord and Lady of the Manor Titles, including membership to the Landed Gentry Society.
Genealogy records:
Having trouble finding your family history records? Enter your Surname here!
Read news releases and articles concerning the latest Online family records:
Search over 600+ Historical Databases
Search for Genealogy records online!
Genealogy Search Tips - review 1
Getting started with Genealogy
Click to search about:
Old News Archives:
January 2006
Feburary 2006
March 2006
April 2006
May 2006
June 2006
July 2006
August 2006
September 2006
October 2006
November 2006
December 2006
2007 Archives
2008 Archives
2009 Archives
2010 Archives

More Resources
Additional information about the your Genealogy
Genealogy Records
Having trouble viewing your family history documents? Click here for FREE samples
(Acrobat Reader Required)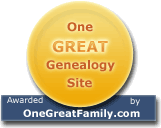 Research your
genealogy
at
OneGreatFamily!