Welcome to the Leicestershire County, Town and Parish page
Welcome To Leicestershire Genealogy
Searching for information in Leicestershire? This section of the site aims to become a collection of links for all Leicestershire Genealogy research.
Cemeteries
Cemeteries, list of addresses and phone numbers, choose Cemeteries, then England, the Leicestershire
Cemeteries in North West Leicestershire, details of those maintained by the district council
Hinckley and Bosworth District Council also have a page on cemeteries they maintain
Cemeteries of the City of Leicester, from Leicestershire and Rutland FHS
Guy Etchells has a site with links to cemeteries and church photos for many places, the front page has five links for Leicester or Leicestershire
Cemeteries, list of addresses and phone numbers from Funeral Services UK, choose Cemeteries, then England, the Leicestershire
Other Genealogy
The Society of Genealogists holds copies of a variety of parish registers from Leicestershire churches which can be studied at their library in London.
The Leicestershire Archaeological & Historical Society holds its meetings at the Council Room, New Walk Museum, Princess Road West, Leicester. Contents of the society's publications, the "Leicestershire Historian" and its transactions are listed on its web site, which also has useful links to other local organisations.
Also, check out - http://www.leicesterforum.co.uk/ - Founded in 2006 Leicester Forum is a community site for Leicester and we a board for discussing genealogy.
Genealogy records:
Having trouble finding your family history records? Enter your Surname here!
Read news releases and articles concerning the latest Online family records:
Search over 600+ Historical Databases
Search for Genealogy records online!
Genealogy Search Tips - review 1
Getting started with Genealogy
Click to search about:
News Archives:
January 2006
Feburary 2006
March 2006
April 2006
May 2006
June 2006
July 2006
August 2006
September 2006
October 2006
November 2006
December 2006
More Resources
Additional information about the your Genealogy
Genealogy Records
Having trouble viewing your family history documents? Click here for FREE samples
(Acrobat Reader Required)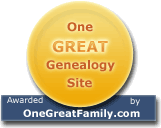 Research your
genealogy
at
OneGreatFamily!