Welcome to the Lincolnshire County, Town and Parish page
LINCOLNSHIRE
"Lincolnshire, maritime county in East of England, bounded North by Yorkshire, from which it is separated by the Humber; East by the North Sea; South by Northamptonshire, Cambridgeshire, and Norfolk; and West by Nottinghamshire, Leicestershire, and Rutland.
Lincolnshire is the second largest county in England. For a very long time it has been divided into 3 'parts' -namely, the Parts of Lindsey, the Parts of Kesteven, and the Parts of Holland. Generally speaking the land is flat and low, especially on the coast, which in some parts requires an embankment to check the encroachments of the sea. The Wolds, or Chalk Hills, in the Northeast, are about 47 miles long and 6 miles broad." From Bartholomew's Gazetteer of the British Isles, 1887.
| Title | Category | Places | Name Count Estimate |
| --- | --- | --- | --- |
| Lincolnshire, England: Parish and Probate Records | Birth, Marriage & Death | England; United Kingdom; Lincolnshire; Europe | 285,118 |
| Lincolnshire History, Gazetteer, and Directory, 1856 | Maps, Atlases & Gazetteers | England; United Kingdom; Lincolnshire; Europe | 15,283 |
| The Johnson family and allied families of Lincolnshire, England, being the ancestry and posterity of Lawrence Johnson of Philad | Stories, Memories & Histories | USA | 8,670 |
| Some notes on the families of Hunnings of South Lincolnshire, London, and Suffolk | Stories, Memories & Histories | USA; England | 1,156 |
| The Lincolnshire origin of some Exeter settlers | Stories, Memories & Histories | USA; England | 340 |
A number of commercial directories exist for Lincolnshire for the 1700's and 1800's. While valuable, they have limitations. They are Trade Directories, normally organized by the major cities and market towns, and include only the name of the head of household. People "subscribed" to be included in these, so the landed gentry, clergy, shop owner and tradesman are likely listed, but not ag. labs, shepherds, grocers or employees. The most commonly known directories are White's, Pigot's, Kelly's and the Post Office Directory. The early directories also tend to group smaller villages together with the nearest main town/village. Each town's entry will normally include:
A town history, location and current status & facilities, postal services, coaches, trains, schools, churches, etc.
The dates of annual fairs and the day of the week for "market day".
A list of principal Trades, and within each classification, the tradesmen.
Whites's and Pigot's directories can be found for the early 1800's. Kelly's Directories begin in the latter part of the 1800's.
Some novices get confused by the terms "parish", "city", "town", etc. Let's address those:
A hamlet is the smallest geographic entity we use. It can be a small cluster of houses, as few as two, or even just a collection of houses on one side of a road or embankment. It may not have a church, but may have a Chapel of Ease, where the preacher from the nearby village church might hold services.
A village is a small cluster of houses. It probably has a church or had one at one time. It may even have several churches and chapels used by non-conformist religions. Most villages have been around for 1,000 years, but some are new. Some have also disappeared because they were abandoned.
A town is a village which at one time, perhaps recently, felt it was large enough to hold regularly scheduled markets or fairs, either weekly or annually. Thus you'll hear of villages which are called "market towns". These are not to be confused with "townships", which is a political congregation of houses and/or farms formed for some purpose (like building a school). A Market Town generally held a charter from the local Lord of the Manor or some nobility granting them the right to hold the market.
A parish is the area served by a church. Generally, we are talking Anglican churches here, but Catholic churches had parishes, too. The Anglican Church had a great deal of power at one time, and much administrative life was lived within parish borders (like Poorlaws). The simplistic construct was one church per village, with the village being the center of a parish. But, exceptions abound. Some villages had two churches, thus two parishes. Etc. If a village was abandoned, the parish was absorbed into neighboring parishes.
A City, on the other hand, was a formal political entity, granted a charter by The Crown. The Charter usually gave additional rights and obligations to the citizens of the city. A city did not have to be large. It could be the size of any village, but cities were often ports or important trade points (like Lincoln or Gainsborough). Because of a larger population than most villages, a city might have 5 or 12 parishes within its boundaries. And, just because it's big today, that doesn't make a town or village a City. They've got to have the charter, which is not given out just because the town wants one.
Lincolnshire was, and still is, in some ways, divided into three "Parts"; the Parts of Lindsey, Parts of Kesteven and Parts of Holland. These names still survive today in administrative bodies.
To put it simply, Lindsey is the Northern half of Lincolnshire, above Lincoln and to the North of the river Witham, down to Langrick and across to Wainfleet and Croft.
Kesteven is the south west part of Lincolnshire, whilst Holland is the south east side.
Like many regions in England, some Lincolnshire Names and Terms are unique. For example, what's a Yellow Belly?
This section has been moved to its own page for size reasons. There are several regional and local Societies to help you in your search.
Genealogy records:
Having trouble finding your family history records? Enter your Surname here!
Read news releases and articles concerning the latest Online family records:
Search over 600+ Historical Databases
Search for Genealogy records online!
Genealogy Search Tips - review 1
Getting started with Genealogy
Click to search about:
News Archives:
January 2006
Feburary 2006
March 2006
April 2006
May 2006
June 2006
July 2006
August 2006
September 2006
October 2006
November 2006
December 2006
More Resources
Additional information about the your Genealogy
Genealogy Records
Having trouble viewing your family history documents? Click here for FREE samples
(Acrobat Reader Required)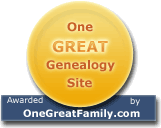 Research your
genealogy
at
OneGreatFamily!