Want to link to Free-genealogy.co.uk? Send an email HERE with your website URL. Don't forget to link back! (Due to amount of emails this could take a couple of weeks)
SITE LISTINGS >> Lineages and Surnames
Click the first name of your surname:
A, B, C, D, E, F, G ,H, I, J, K, L, M, N, O, P, Q, R, S, T, U, V, W, Y, Z
Baird History and Genealogy - interactive community for research into the Baird family history, clan information, births, photos, immigration, and more.
Bickham - resource for anyone interested in the history of the Bickham family. Includes links to searchable data on the Internet, genealogical resources, and home pages of Bickhams.
Robert Bickham Family - surnames include: Ball, Croy, Chess, Cochran, Daniels, Douglass, Edwards, Eubanks, Herren, Justice, King, Rolston, Goslee, Lewis, Lunsford, etc.
Barney - information for descendants and researchers.
Bell - nonprofit organisation of Scottish descendants whose objectives are to foster and promote understanding and good fellowship among the descendants of Scots.
Personal Collection of Virginia Martin Brown - reproduces family and ancestral documents, photos, and other geneological material. Includes the 1828 journal of Mary Elizabeth Dupuy and Civil War and World War II letters.
Brown / Carney - other surnames include: Blackketter, Emerson, Bentz, Sipes, Gee, Wolford, Wesner, Sturgill, Van Horn, and more.
Bending - index of names from Bending genealogy research with links to personal histories and sources.
Barbee - major lines in the U.S. are covered. Post your queries.
Barnhouse - provides charts, photos, researcher's list, original records abstracts, and queries.
Brew - one name study of the surname.
Brough - family history and genealogical information.
Beauregard - includes migration routes and flags used by these families.
Bacon - other surnames include: Grady, Kitchin, Satterfield, Stack, and Travis.
Balkcom / Monogue - genealogy of the surnames Balkcom, Franks, Monogue, Marshall, Gibbons, Murphy, O'Callaghan, Brannon, Galbreath, Cassin, Gann, Walsh, Galloway, McAdams, McKamie, St. Croix, Baldwin, and Mathews.
Birtley - information on the family, originally from Northumberland and Durham.
Bluett - offers family history and other services for Bluetts.
Babb / Mahaffey - also including research on the surnames: Wright, Lee, Hussey, Hopkins and Perkins.
Boissonneau / Bussineau - four cousins doing research on the names Boissonneau, Cadotte, Boyer, St. Onge, etc.; Boissoneau lineage traced back to 1579.
Bonugli - includes a family tree, photographs, and crest.
Beaumont - descendants of William Beaumont (circa 1607 - 1698).
Borglum / Jensen - other surnames include: Chrestensen, Larsen, Christensen, and Lind from 1600s to present.
Boruta - information and news connecting members of the Boruta family around the world. Also in Polish.
Blair - researching in VT, NH, and Scotland. Database contains thousands of births, christenings, and marriages in Scotland from 1550-1880.
Ball [altlaw.com] - descendants of Edward Ball of NJ GEDCOM site; resource for those researching the founding families of Newark, New Jersey.
Bloyd / Carman - family history including the surnames: Ferrill, Morris, Warren, Wilkins and Winters.
Bradlee - Bradlee family genealogy and history for Bradlees spelled "EE" with NO "Y"
Ballew - other surnames include: Autry,Fincannon, Harroway, Jarrard, Marshall, McQuatters, and more.
Ballew Family Association - founded in 1981 for the purpose of determining how all spellings of BALLEW are related. Find ancestors and cousins, family reunion events, links to related sites, and more.
Bruce - established to create and promote kinship amongst its family members and to encourage interest in the Family of Bruce and its history.
Baker [wiu.edu] - Martin/Hannah Baker line: VA.> KY.> MO.> The U.S. and Chile, S.A. Has 30+ links to other Baker lines, plus list of best genealogy sites.
Barton [eatel.net] - also VanDiviere; family genealogy from the Carolinas, Georgia, and points west.
Barton [ultranet.com] - descendants of Edward Barton (ca 1620) of Portsmouth NH, Cape Porpoise ME and Salem MA; includes families in ME, NH, VT, MA, NY & the Midwest.
Bagnall - dedicated to the history of the surname and placename of Bagnall.
Bates / Decker - also including Stephens, Gallup, and many more families and their histories.
Bown - descended from William Bown of Middlezoy, Somerset.
Broady.info - provides family history of the surname Broady and its variations Broadie, Brody, or Brodie.
Bevier / Eting - historical information and photos of the Bevier Elting family and historic stone house.
Bartles / Williams - extensive surname database also including the Wallick, Cathey, Berry, Walk, Wilson lines.
Beach - articles and links relating to the local Beach/Beech family history.
Blanton - also includes Saunders, Prestridge, and McAnear surnames.
Burns - also with: Roberts, Murphy, Reilly, O'Reilly, Sullivan, McRae, Morrison, Mayfield, Quinn, Hartnett, James, Kennedy and more family histories.
Bartlett - containing documents to assist others in researching the surname.
Bartlett / Callaway - genealogy of Jesse Bartlett (1791-1838) and Frances Callaway (1792-1840), their descendants, and ancestors.
Bitting - information on the Bittings in America.
Bjerke - surname list includes Aslakson, Dahlgren, Fredriksen, Greenfield, Hanson, Kallevig, Nasset, Tanaka, Teigen, and Valderhaug.
Bushore / Bouchard - Family genealogy site information on Buck, Eckert, Maiser, McCann, Oller, Patton, Reibly, Sylvester, Webb and many more surnames.
Bushfield - Bushfield family historians are welcome to visit this page to exchange information. Genealogy links added regularly.
Bourne / Newberry - also including genealogy information on Tobey, Farnham, Brewster, Tilley, Howland and many more.
Bloor - links to Blo(o)r(e) Society (One Name Study Group) and general Bloor Family items.
Bower - dedicated to worldwide research and discussion of the surname and its variant spellings.
Bramblett / Bramlett - dedicated to collecting and disseminating information on William Bramlitt, Sr, the earliest known American Bramlitt.
Buratto - family genealogy in English and Portuguese.
Bunten - including the surnames: Bicknell, Blois, Bould, Bowchiew and others.
Bare Family Genealogy - created so Bare cousins everywhere can share their family stories, historical events, and even legends.
Bailey / Blickensderfer - other major surnames include: Grove, Harrison, Hollyman, Holleman, Holly, Holley, Lamb, Timberlake, and Walden.
Baca - information on families in the Rio Abajo region of New Mexico, including the surnames Torres, Zimmerly, Abeyta, Miera, Peralta, Vaiza, Visocky, and Schwartzenberg.
Bonjour - I am conducting a one name study on the BONJOUR surname. BONJOURs are currently mostly located in Michigan, Illinois, Indiana, Kansas, Wisconsin, Iowa, and many more states, and in Switzerland, Italy, India, and many more countries.
Balli - organisation created to unite Balli family members.
Benner - dedicated to documenting the family descendents who have left or remain in Bucks or Montgomery county Pennsylvania.
Brouwer - also: Brower, Verdon, Colyer and other early NYC area families.
Babkirk - research includes the surnames: Rosa, Allen, Varley, Hendershot and Bierer.
Bullock - 10 generations of known descendants of Richard Bullock (1622-1667) of Rehoboth, MA. Descendants mainly from New England, NY, PA & midwest.
Baird / Burgess - also including the surnames: Clark, Dennis, Gieswein, Hartley, Johnson, Pinnecker, and Wall.
Balding - family genealogy research, with a searchable database.
Broughton - offers links and research information, and also open to inquiries and information on this surname.
Burrow / Kimbro - contains decendants of Phillip Burrow, Henrich Kimbro, Wilson Young Royal, and Ferdinand Harless, with brief histories, documentation, and photographs.
Beasley - history, online newsletter, ancestor queries for the family including alternate spellings: Beasley, Beazley, Beesley, Beezley, Beasle and Beezly.
Bathurst - history of the Bathursts in the USA.
Bettinger Family - brief overview of the origin of a founding central NY family that are descendants of Philip Bettinger, Soldier of the Revolution.
Bearce - including surnames: Colvin, Capiferri, Capaccioli, Harring, Marston, Josselyn, Turner and Gorham.
Blick - Blickenstaff, Pleak, Blickenderfer and Blickensderfer.
Burn - family names of William Burn, Augustus Nelson, John Porter, and Bennett G. Ramsey.
Banther - family history from 1618 to 1996.
Bollinger - striving to trace the roots of all Bollinger, Bullinger, Ballinger & Bolinger lines in North America.
Bagwell / Barham - other surnames include: Downen, Gregory, Gunn, Hammacher, Ledbetter, Ledford, Merrell, Newton, and Prather.
Bennett / Bond - also including Carter, Cayley, Clutterbuck, Etherington, and others.
Boulter - everything Boulter is a site about the history, people, things and places affiliated with the surname.
Blanchard - Blanchard, Beal in Massachusetts. MacQuarrie, Murray, Cameron in Nova Scotia, Scotland. Moberly, Laidley, Shacklette, Redd, Pipes, Black in Missouri.
Beeman - includes a bulletin board and feedback form and information on all variant surnames pronounced B-man
Boyle - descendants of Thomas Boyle born in 1793 in Ireland and settled in Canada.
Backstrom - other surnames include: Beaman, Beeman, Cooley, and Walters.
Bivona - concentrating on Patteson, Standifer, McGowan, and Hughett.
Blackburn - includes information about the Blackburn Family Association.
Brascamp - alternate spellings: Braskamp and Klein Braskamp.
Burgan - other related Families include: Biddison, Parlett, Gorsuch, Jarman, Jackson, Gatch, Grover, Griffin.
Bramhill - traces the history of this family, which dates back to 1700 and seems to have originated in Epworth, Lincolnshire, England.
Bartold - genealogical resource centre for the surname.
Blue / Farmer / Kirk - other surnames include: Martin, Bradbury, Downing, Gardner, Gough, Heuschkel, Shain, Porter and Villines.
Bidembach - research on Bidembach and other British and German names.
Bruckner - genealogy of the of German Saxons in Transylvania and Romania.
Brickhouse - includes photographs, military history, and Eastern Shore Quakers.
Bigham - information on some of the families of NC,TN,VA,and PA.
Birkenbach - also researching Buchele, Delworth, Kaylor, Kearey, Carey, Keehne, Kühne, Kuehne and others.
Bleecker - known descendants of Jan Jansen Bleecker of Albany, New York.
Bluhm - other surnames include: Dosh, Libor, Phipps, and LeVesconte.
Bray - ancestors & desendants of John Bray, Sr. (B. 1787 Delaware-D. 1868 Ohio).
Burkholder - dedicated to all who proudly bear the name.
Bayless - genealogy page of Michael Bayless.
Balfour - traces the history of the name in the Orkneys.
Bankert - studying the Bankert and Graber families of Central and Upstate New York.
Bocking - history, conjecture, rumour, and more on the surname.
Bonikowski - provides information about the Bonikowski family in Michigan as well as branches in Poland and France.
Beard - site includes the stories of George Hooker, Thomas Doyle and others.
Bowes - brief outline of Brompton family, with details of some 18th & 19th century members.
Brodie - William - looking for info on the Brodie Family Tree.
Bundy - family history and genealogy.
Ancestors of Carol A Bender - also including: Duke, Humphrey, Riffle, Snyder, Mckissic, Hull, Arbogast, Duffy, Humphrey and Lunsford Families.
Bender / Luger - also includes genealogical information on Rhomberg, Loretz, Taverna, Effinger, Braun, Rollinger, Ericson, Scott and Sorensen.
Bernard / Bernier - other surnames include: Lariviere, Soucie, Gaudet, Poirier, Nilsson, Kelly, Stewart, and more.
Balch / Ruddell - families of Colonial America to today. Includes O'Brien, White, Gardner, Hite, and Heydt.
Bashor / Elliot - including: Erwin, French, Henley, Humphreys, Misamore, Phillips, Rector, Rhea, Treadway and Vance.
Brobst - Brobst genealogy, news, queries, links, history, searchable databases, and more.
Bushong - also including Moog, Boyer, Guire, and Hall families.
Benitz - follows Wilhelm Otto Benitz (1815-1876). Reunion in Argentina April, 2000.
Birch - sharing research into Birch families living in Oldham, near Manchester, England, during the 19th Century.
Breitenbach - listing people and places named Breitenbach.
Busey - history of the Busey family in America, French Huguenots by way of Holland.
Blackford - includes Blackford, Poundstone, Ross, Rider, Richey, Rankin, Scott, Braden, Gray, Reiner, Albright, Troutman, Burley, Porter, Jeffrey, Reese, & Dennison.
Bywaters - explore the family history through eleven generations.
Boudreaux - including many Acadian and French names going back to 1600's. Also with some Spanish and Canary Island ancestors.
Blakey - other surnames include Hogg, Aitchison, Whitworth, Short, Softley, and Darling.
Barrett / Burger - Includes: Chadwick, Shadwick, Fouse, Gardner, Hall, Harrel, King, Long, Lowery, Putman, Sansom and Weems.
Bock / Christman - ancestors are documented beginning at this genealogy root page.
Booe - family history from Germany in the early 1600's.
Boulware - dating back to 1650, colonial Virginia, this family has spread across the U.S. and has many branches.
Boyer - family history, including correspondence.
Bustos - surname is derived from the name of the place where a man once lived or held land.
Barron - surnames include, Butterfield, Gibbs, Hollon, Maisel, and Nienhaus.
Bordwell - other surnames include: Bruner, Collier, Cornforth, Hadley, Harger, McGaha, Garrigus, and Kensinger.
Baine - includes the ancestry of Thomas William Baine V, and family.
Bodycote - lineage starts in England and continues to Australia.
Barbaras - information on people, places, and a family tree.
Beauparland - documenting members of the Beauparland family in America.
Brindley - also Stansfield, Graham, Scott, Rowley, and more.
Ballard [geocities.com] - The Ballard Family line with many surnames all indexed. Also has a visual record of some family members.
Bonnevie - family history, with photos, family charts. Related families include Bransfield, Cormier, and Whyte.
Ballinger - documenting the Ballinger family of Upton St Leonards, Gloucestershire, U.K., and related families.
Barrymore - presents a history of the famed acting dynasties of Barrymore, Drew, and Blythe. Includes information on actress Drew Barrymore.
Bayes - offers information on notable Bayes', the history of the name, and a case study in a specific Bayes family.
Boucher - my modest genealogy page with some links including one to my French-Canadian Ancestor page on Family Tree Maker.
Bruce, The - about the history and genealogy of the clan.
Brockett Family Heritage - focuses on the Brockett families of Virginia and Maryland whose immigrant ancestors were Robert Brocket and Anabella Burnet.
Board - contains copies of original wills for early members of the family, as well as pictures, and a descendant chart.
Ballenger - ancestors and descendents of K. K. Ballenger, Sr.
Baynham / Cale / James / Majumdar - features information on the Baynham family of Herefordshire, the Cales and James families of Monmouthshire, and the Majumdar family.
Burleson: Recollections - http://www.bfrg.net/
Family research group investigating the history, heritage and ancestry of the lineages from North Carolina.
Early US and UK locales, biographies, census data, patriot information, and links to Massachusetts history and resources.
Robert Bickham's family history, includes pedigree charts.
Ancestry of Thomas Beswick, convict transported from London to Tasmania in 1823, married Mary (Mackenzie) Peck.
Worldwide family history research pertaining to the name and its application. Includes UK origins, AUS index, publications, photographs, vital records and associated documentation. Also features interactive community.
Single name study society dedicated to preserving the heritage of the Barney family throughout the world. Includes a quarterly newsletter featuring pedigrees and research interests (annual subscription applies).
Family history of the Brummelaar and Drese lineages as compiled by Corry, Mona Vale NSW AUS.
One name study including searchable databases and associated links.
Descendants of William Baily (b.1540) from England to the USA.
Researching the lineages of Bromberek, Bumber, Kozlowski, and Wesolowski who emigrated from Poland and settled in Lemont, Cook, IL USA; and Irish origins of Howe, Madden, Riordan and Tracey.
Informal group with an interest in the history of the family in North America and variations, including Blaw, Blew, Blauen, Blau and Blu.
Pedigree, photos and historical documents. Covers Michigan, Indiana, Ohio, Maine, Massachusetts and Russia. Compiled by Dawn Bare Bonney.
Scott Bird's Australian ancestral research. Also covers Sterling and Bradfield families and has historical information on Edinburgh, Scotland.
Web ring by or about the Barmore, Baremore, Barrymore and derivitive families.
Research on the surname Burness anywhere in the world including origin, spelling variations, distribution and family trees.
British, Irish and Australian ancestral connections.
Family history, surnames, military rosters, old photographs and documents. Covers Scotland, England, Ireland, Virginia, North Carolina, South Carolina, Missouri, Mississippi and Texas.
Y-Chromosome test to determine which lines are genetically linked, and to identify the most remote common ancestor.
Various sourced family trees including associated families. Provides history, origins, vital statistics, and geographical distribution by UK county.
Research resource for descendants of immigrants from Litmanova (Littmanova, Harsad) Slovakia, compiled by Nick Benyo. Includes photographs, records and folksongs.
Family lineage, biography and census information. Research is concentrated in the Southern States of the USA.
Family history of Robert and Gail, descendants of James Bellflower, Halifax County, 1700s.
Ancestors and descendants of Phillip Bremner, New Brunswick. Includes message board.
Families who immigrated to Puerto Rico during the 1800s. Includes Brugman and Chabrier.
Generation charts and photo album, compiled by Kathleen Bloxsom Wagner in association with Doris Alexander McTaggert and Lavon Elder Mundinger. Includes Tannehill and Young.
Family connections in Henry, Louisa and Des Moines Counties, Iowa. Includes pedigree.
Non-profit, Utah based association which aims to document the lineage of Richard Brough and Mary Horleston. Research is currently focusing on the pre-1700 Broughs of Staffordshire, England.
Descendents of Louis Bevier and Marie LeBlanc. Includes reunion notices, European origins and current research.
Family history of the lineage from Nova Scotia, includes spelling variant Besançon. Origins lie in Montbeliard, a Principality now part of France.
Ancestry of Mike Baron and Susan Johns of Frome in Somerset, UK.
Family history including origins, pedigree and places.
Researching the name including soundex variants. Includes database, census, military rosters, DNA, associated sites, court records and marriages.
Covers the variants Baughan, Baugham, Baughn, Bauffin, Baffin, Boffin and DeBaughn. Includes registrations, links, and census information.
Goal is to unite those researching the name and to share notes and ideas. Includes documenting the various lines from primary records.
Descendants of Andrew Bratton (b.1686) Antrim County, Ireland. Surnames include Roloson, Stultz, Stamper, Hill, and Dillon.
Family history of Therese and Paul Fibraio including pedigree, photographs and associated links.
History of the name and its application including various pedigrees, anglo-saxon origins and general information.
Family history and photographs as compiled by Robert Keith Barker. Features the surnames Barker, Yoders, McDaniel, Kelly and Litzenberg.
Dedicated to those with the name across the globe. Includes application in history, on the web and in respect to companies.
Connecting the various branches of the Belknap and Belnap family worldwide.
Searchable database, primarily from Ostfriesland, Germany. Includes gedcom version of tree.
One name study including variants Binsted and Binsteed. Compiled by Richard Binstead.
Tracing the family from 1830s. Includes biographies, family tree and photographs in and around Sussex, Hampshire, Ealing and Birmingham.
Ancestral history. Includes Cune, Hamme, Fuld, Poons and de Vries. Compiled by Reinier and Dirkje Bobbe. Also available in Dutch.
Origins and history of various lineages (especially Germany and the USA) including all variants. Features transcripts, documents and associated links.
Family organisation founded by Ken Brantley, dedicated to ancestral research, primarily throughout the United States. Includes spelling variation of Brantly.
Research resources, newsletter, portrait gallery, surname index and forum.
Sharpe novels, cross stich and English family history including the Goddard family of Litchfield, Hampshire and the Bushell lineage from Portsmouth and London.
Research exchange, search performed in return for contribution. Includes births, marriages, deaths, wills, book titles and newspaper cuttings in the UK and USA. Maintained by Tom L Beckham.
Family research site, history, searchable name index. Includes Brindley, Brinly and Brinlee.
Creating a worldwide family tree by testing the male Y-chromosome. Includes current results, participation criteria and applicable contacts. Includes variants such as Popp, Paup, Bob, Babb, Bubb and associated spellings.
Tracing the lineages from Middlezoy, near Bridgwater in Somerset, ENG. Also features postcards of the Bridgwater area and a link to the Bridgwater astronomy club. Compiled by Dave Bown.
Testing the male Y-chromosome for Bridge, Bridger, Bridgers, Bridges and Briggs. Includes test kit and results.
Dedicated to the history of the Barg, Berg, Bark and Barck Jewish families, including the Barg one-name study.
Searchable PAF database. Includes Lamberton, Strobl, Hopson and Davidson.
Searchable database, includes surnames Chapman, Howland, Barger and Eaton.
Descendants of Martin David Beatty (b.1822) and Lucy Ann Lamphier (b.1824).
Registered with the Guild of One Name Studies, number 2221. Features variants Beardsmore, Beadmore and Beadsmoore but not Beard or Beadman. Includes Essex dead of World War II.
Records and documents for over 5,000 names including Bryan, Bryant and Briant.
Ancestral history extending from Eccles, Scotland to the parish of St. Elizabeth in Jamaica in the 1700s. Compiled by David Bromfield.
Braukamper family history including the related lineages of Braukaemper, Kordes, Becker, Farbotko and Romanyk. Features research news, history and pedigree.
Ancestors and descendents of Ambrose Bull (b.abt.1750). Compiled by Roger Charles Bull of Loxley, Alabama USA.
Global single name study including history, pedigrees, photographs and biographies. Site available in Italian and English.
Ancestral history from the 1600s to present day. Resources, queries and links.
Ancestral history compiled by Jan og Gitte Bergendorff Høstbo. Site also available in Danish.
Compendium featuring historical background and source information from 1169 to 1395, England and Ireland.
Ancestral history, mostly US, includes coat of arms, census, marriage records and photograph album. Compiled by Carol Brumley.
Central repository for collecting and exchanging information for persons researching the name including variants Boutwell, Botwell, Bathwell, Boswell and Buthwell.
Family history of Mary Ann Biscorner.
Descendants of Jacob Brower and Hezekiah Tyrrell. Includes history on the US Cavalry.
Descendants of Solomon Butson (b.1793) Cornwall, England. Compiled by Dave Butson.
Family history of J Birney including surnames Bricker, Coulter, Elliott, Beatty, McCullough, Law, Layport, Holmes and Palmer.
Researching the history and application of the surname including variants Bralsford, Brealsford, Brelsford, Brialsford and Brailsforth. Features transcript database and origins in Derbyshire, UK..
Tracing the lineages of Boyette, Mcgarrah and Grace of Attala, North Mississippi USA. Compiled by Marjorie Norris.
Families that settled in Mississippi, especially around the Monroe County area.
Researching the name Bosschaert(s) and variants Bosschaart, Bosschart, Bossaerts, Boscara and Bouchaert. Site is available in both Dutch and English.
Lineage, royal family tree, games, humour, quotes and words of wisdom. Includes family history forum.
Brenda Jeffery's pedigree, mostly Croydon, Surrey. Other names include Bowers and Burgar
Ancestors and descendants of William S Bullock (b.1776) and Magdaline Hickman of Sullivan County of Tennessee. Includes surnames Hickman, Waddle, Wilburn, Heffington, O'Dell and Massengill.
Descendants of Anna Yeck and Casper Blimling (b.1819) from DEU to Beardstown, IL USA. Includes photographs, pedigree and reunion information.
Resources for those researching the name and its application in North America.
Family history of Joel Blakeslee 1787-1863, son of Colonel Samuel Blakeslee 1759-1829.
Family history of Hartley Andrew Budd, from Manchester, England to Wallan Victoria, Australia.
Pedigree line of Alun Buffry, 1600s to present day. Includes spelling variations of Buffary, Buffy, Buffer, Des Bouveries and Desbouveries.
Tracing the history of the name with origins in Hudderfield.
Research hub for those seeking family re Fondo, Tret, Cusiano, Pellizzano and Cloz.
Family trees and general history as compiled by John Baldock. Includes unrelated lineages and cross country lines.
Origins, numbers, and summary of research to date.
Ancestral heritage including variants Barragry, Berecry, Baragry, Berecree and Biracree.
Ancestral research from the late 1500s to present day, stretching from Zeeland in the Netherlands to the USA. Includes photographs and information on name origin.
Pedigrees for the Beever families of Holmfirth, Yorkshire. Includes the Drewetts of Hannington, Hampshire and the Jacobs of St Teath and St Kew in Cornwall.
Yahoo group for descendants of Austin (Augustine) Bearce, including variants Bearse, Barse, Barss, Bearss, Bierce and Burce. Features free members only section with chat facility, photographs and database.
Family history, coat of arms and reunion news. Includes Dutch origins of name and information on several generations.
Origins, occupations and pictorial family trees. Non Quaker.
Ancestors and descendants of Hendrik Willem ten Broeke. Researched by Klaas Jansen and compiled by Jan ten Broeke.
Ancestors and descendants of Jan Wilm Beernick and Johanna Mellendijk. Children migrated to the USA from the Netherlands in the mid 1800s, settling in Wisconsin.
Researching the family lines of Cloud, Lane, Newberry, Riggs, Blanton, Cosby, Davidson, Farris, Hill, Howard, Jenkins, Robertson, Simpson, Jones, Mercer and Bonsal.
Studying the name and its application, includes history and research exchange forum.
Ancestral history and pictorial. Also includes surnames Bunzo and Bonzon.
Ancestors of Steven Bachiler, multiple generations. Includes historical content.
Descendants of Jones Burton (b.1875) Mecklenburg County, Virginia USA. Married Mildred Lambert.
The history and origins of surname Bilsland as compiled by Colin W Bilsland.
Pedigree of André Jarret dit Beauregard and Margueritte Antiaume, 1600s.
Single name study including variants Bigger, Beggar, Biggar and Biggart. Features coat of arms, castle history, various pedigrees, research exchange and associated links.
Ancestors of Bill Balsam and Margaret Moreno. Includes searchable database.
Descendants of William Henry Brandenburg (alias Wilhelm Heinrich) born 1722, Germany. Includes reunion information.
Family tree and general interests of Marco Bonavoglia. Includes the surnames Sacco, Torre and Tatulli. Features pedigree database, photographs, information on Milan, games, paintings, poetry and chess.
Y-chromosome testing to determine family relationships; and to establish specific European origins and timescale.
Researching the lineages from Virginia. Includes searchable database, cross-linked family group sheets, photographs, message board and associated publications.
Descendants of Dougald Robert Boyle (b.1847), married Mary Ann Tyrrell.
Various researchers collaborating on a single ancestral project. Includes surnames Atkins, Bicknell, Biggar, Burton, Clark, Ditch, Donaldson, Kajatin and Snell.
Canadian Connection. Surnames include Bowser, Geisler, and Radford. The descendants of Sir Isaac Newton's family are also listed.
Researching the line from Illingen, Wurttemberg, Germany.
Single name, worldwide study including variants as compiled by John Bottle.
Ancestors and descendants of Benedict Baumann (b.1850) and Cornelia Sorg, Germany to USA.
Heraldry, family lineage, discussion forum and general history on the name and its application.
Family dynasty, including photograph album and interests.
Uniting those who are researching the name. Includes variants Badcock, Babkirk, Badco, Badcocke and Badcoke.
Overview of the Beischel family that settled in the Cincinnati, Ohio area in the mid 1800s.
Ancestral and relationship chart, general family history. Includes neighbourhood community.
Uniting the various Barnwell families. Compiled by Larry and Linda Barnwell.
Research attempts to tie together the various family strands.
Descendants of John Boshart (b.abt.1750) Wittenheim, France and Anna Maria Muller. Both were Swiss Anabaptist (Mennonite) refugees. Surnames include Jantzi, Roth, Zehr, Eicher.
Family history, includes Butram, Burtram and Buttram.
Sharing histories and information between families worldwide.
Beattie, Broders and Harrison family history and genealogy. Descendants of Fount Beattie who was one of Mosby's Rangers during the Civil War.
Ancestral research with origins in Stoke on Trent, Staffordshire, England.
Researching the family line from the 16th century through to the present day. Covering predominantly the lineages from Cornwall, ENG.
Family history, ancestry, and origin. Includes articles, information, descendent charts, surname list, and research tools.
Descendants of Henry Berrong of Hiawassee Georgia. Family stories, trees and photographs.
Searchable database of Bawcutt, Baucutt, Bawcott, Baukitt, Bawcoat, Baucote, Bancut and variations, mostly England. Includes IGI files, BDM and GRO entries.
Ancestral history of Ken, Diondra and Travis Blansit from Modesto, CA USA. Includes census data, BDMs, photographs and stories.
Researching Umberto Berti who emigrated to the USA circa 1905. Includes photographs, compiled by Agostino Meleddu, Roma, Italy.
Documenting a line of Brownfields from Greenwich, Gravesend, Rotherhithe and Petersfield in ENG from 1700 to 2000.
Brunner and Macey Family Ties - http://www.angelfire.com/de3/brunner/
Ancestral history, including the McKagues of County Cavan and Oberholtzer families.
Insights into the Baumeister von Bretten family of Kienchlinsbergen, Germany. Compiled by Philippe Alexander von Bretten.
Family history including surnames Greenhead, Jacobs and Shillaker.
Ancestors and descendants of John Bain (b.1825) married Ann Hunter. Includes surnames Anderson, Douglas, Graham, Herbert, Laidlaw, Mitchell, Robinson, Taylor, Templeton and Wallace.
Family of John Bradley and Jenette van Sickel from the 1600s. Compiled by Renee Teekens, Canada and Aad Breddels, Netherlands.
Descendants of William Barr (b.1742) Ireland, but of Scottish descent. Covers Pennsylvania and Ohio.
Ancestors from the Alston Moor area of Cumberland, England.
Researching the Belcher, Ramey, O'Dell, Chaney, Nutter, Childers and Wells families.
Baichtal - http://www.baichtal.com/
Research hub pertaining to the name, including email and webspace for family members.
Baucum - http://www.baucum.org/
Male Y-DNA study for Baucum, Baucom, Bawcum, Bawcom, Balcom and variants. Seeking to determine family lines by supplementing traditional research and resources.
Ancestral history and attempts to foster contact amongst present family members.
East Texas family history including Jackson and Gibson research, family group sheet, brick wall submissions and graphic designs by Dena Jackson Burrows.
Descendants of Vincent-Nicolas Boissonneau who came to New France in 1665 with Louis the XIVth's Arignan-Salieres regiment. Married Anne Colin and lived on the 'Ille de Orleans' in Quebec. Available in English or French.
Decendants of Louis LeBouvier and Sebastien Bouvier, both born around 1605 in France.
Family tree commencing in Essex UK, circa 1763.
Family history of Joseph Auguste Bandet from La Ruchere, France, settled Prud'homme,(formerly Howell) Saskatchewan, Canada in 1905. Compiled by R J Bandet.
Origins, locations, transcriptions, and research plans.
Ancestry of Sander Buiter, including name origins and history from the Netherlands, Germany and the USA.
Surname study originating in England and the lineages in the USA as compiled by Carlene Morrison. Also includes related variants of surname.
Online database administered by Ralph Bearpark and Eva Ravnikar. Features a selection of family charts and lists, an anniversary calendar, and includes a members section.
Descendants of John Betha (b.1684) from England to North Carolina, USA.
Collection of stories, photographs, drawings and other documents including pedigree.
Resources, stories and family trees of Cornish immigrants, convicts and Australian pioneers.
Searchable PAF database prepared by Robert Bachus, featuring Gedcom download.
Ancestors of Alan and Elise Bradshaw from NW England. Includes surnames Leigh-Nunns, Powell, Synor-Dawson and Watson.
Covering USA, England, New Zealand, Canada and Germany.
Family history as compiled by Marvin Beatty. Includes quarterly newsletter, searchable database, photograph albums, videos, and guestbook.
Family of Johannes Benner, Northern Ohio. Includes gallery, documents and German origins.

Bustanoby Family History - http://www.bustanobys.com/

Family tree, books, articles, photographs and personal stories from the Bustanoby family members and their descendants. Stories begin with the Bustanoby brothers, restaurateurs, in New York City and Long Island.
Family history exploring links with Poland, Germany and Switzerland. Compiled by Mike Burger.
Ancestral history. Includes scrapbook, tree and old family stories.
Surnames, obituaries, photographs, census and biographies. Includes Grund, Sibley, Bennett and Morgan.
Community researching the name and its worldwide application. Includes associated links and contact details.
Duckwheat's research pertaining to the descendants of Johann Bongerz (b.1822) in Konz Germany.
Family tree and photo album, compiled by Michael Beuss, Frankfurt, Germany.
Family history of Jeanette Buckhout including surnames Gruber and Durham.
Ancestral line from Jersey in the Channel Islands to North America and Port Bonaventure County, Quebec. Compiled by Bob Bisson.
Surrey and London families including Bageant, Barnard, Baverstock, Bolton, Boylett and Butt.
Descendents of Jeremiah John Brower. Includes descendent charts, photographs, and features the related surnames of Lovell, Mills, Vickroy, and Ruble.
Baggett, Baggot, Bagot history including origins, coat of arms, family lines and file share.
Family history of Pippa Binnie including surnames Barker, Barnes, Casey, Doyle, Edmondson, Groves, Hagan, Heeney, Hill, Little, Makin, McDonough, Meehan, Pickston, Warburton, Whittaker and Williams. From Liverpool back through Glasgow to USA, Australia and worldwide.
Descendants of Jean Bermel (b.bef.1701), includes German origins, compiled by Robert J Bermel, Canada.
Family history of Eugene Burnand, a painter in the 19th century. Compiled by descendant Philippe Burand. Available in both French and English.
Ancestral research and information on Missouri County, USA. Includes surnames Robinson, Weins and Fink.
Family research as compiled by LaMont Bankson. Includes the surnames Ashman, Creekpaum, Denbow, Emmons, Ferrell, Horn and Smith.
History and photographs as compiled by Jane Aldridge. Features the surnames Bunker, Lawson, Britnall, Wilkinson and Green; from 1470 to the present.
Family history of Donald J Farris including the surnames Andeel, Bayoud, Deeba, Eddie, El-Kouri, Farha, Farhood, Jorishie, Massad, Monsour, Naifeh, Rahal and Sallee.
Privately published papers on family history, pedigrees, origins, geography and arms.
Aim is to provide the basis for a family community, sharing research to highlight origins, history and pedigrees.
Descendents of Edmond (b. about 1412) from Cheddington, Buck, England. Includes charts, related surnames, and a photograph album.
Lineage of Luke Beaufait and Gabrielle Sourceau, late 1600s to early 1700s, FRA.
Researching Beshires-Bishirs, Beshiers, Beshears and Brashears. Includes gedcom tree and family photographs. Compiled by Jim Beshires, USA.
Family history and general interests of Greg and Nancy Bellucci. Features the surnames Bobbitt, Brashears, Bullock, Deardon, Dickey, Duvall, Fancher, Frost, Green, Griffith, Johnson, Harless, Messer, Moreland, Prestridge, Simms, Sledge and Wilson.
Family tree and research as compiled by Susan Bagwell Merrell. Includes related surnames and features research assistance and resource links.
A PDF collection of the books and works of Thurlo Vermont Byers (1923-1998) compiled by his son Tom Byers.
Ancestral research. Surnames include Marx, Loss and Straka.
MSN group dedicated to the Badman name. Includes census records, church records and other files covering England, the USA, New Zealand, Canada and Australia.
Single name study researching and documenting the name and its application. Includes origins, coat of arms, resources and associated links.
Family history of Andy Birchall, including surname history, crest, noticeboard and associated links.
Research hub for descendants presented by Tim L Brazeal. Includes Wills, probate records and photographs.
Ancestral history of Brenda Bean including surnames Campbell, Connor, Hynes, Denson, Osborn and Moore.
Research covers Virginia, Minnesota, South Dakota, Iowa, Nebraska, Kansas, Missouri, Wyoming. Compiled by Tami Dolan.
Family history of David Brougham. Includes UK name origins and in particular the lineage that moved to Huddersfield, West Yorkshire, in the early 1800s from Wetherby, North Yorkshire.
Descendants of Thomas Blythe and Henry Irvin. Includes information of the surname in various indexes such as the Australian Pioneer; Federation and Great War 1914-1920.
Researching family ties in Virginia, North Carolina, Mississippi and Texas.
Gedcom tree, photo album and related links.
Family history of Patrick Buggy and Mary Murphy. Includes the surnames Brock, Franchetti, Tesauro and Snyder.
Society dedicated to organising and holding regular reunions for members. Includes family history and publications.
Family history, original documents and pedigree.
Descendants of John Bagby (b.abt.1570) from Scotland to Virginia, early 1600s.
Family tree, includes Catudal, Rose, Deane, Adams, and other related lines. Compiled by Esther Byrt.
Family history of Malcolm and Hazel Byard, including pedigree (2 formats), documents, photographs and articles of general interest.
Descendants of Adrian Buys, Grand Rapids, Michigan. Includes three generations of family photographs. Comments by Adrian's Grandson Ek require the ability to stream Real Audio.
Lineages of Thomas Backshell and Mary Turner; Thomas Backshell and Lucy Sayers (m.1748); Thomas Backshell and Sarah Boughton (m.1777); Thomas Backshell and Elizabeth Braby (m.1806); William Backshell and Elizabeth Price (m.1822); and William Boughton Backshell and Isabel Milne (m.1853).
Family Tree commencing from the 16th century covering Holland, Germany, UK and USA.
Family history of Leanne Stubbs.
Richard Blalock's family history. Includes related surnames of Schley and Shenkin.
Family history of Sharon Kay (Hulsey) Becker. Includes surnames Hulsey and Brakebill, Phoenix AZ USA.
Family tree covering Amsterdam, UK and USA. Compiled by Tony Wright.
Study of the family back to 1483, contains family photographs.
Ancestral history of Thomas Bolster and Margaret Lockwood from Burnaby, British Columbia CAN.
Compiled by Deborah Lorraine Hannaford, featuring the descendants of Nehemiah Bagnell ( Kings County, Ireland) and Richard Hannaford ( Devon, England).
Database featuring Bannister, Bell, Bird, Gilmore, Graves, Keener, Smith, and Yehl (Jehl).
Descendants of Adam Benston as compiled by Barbara McLain from California, USA.
Related family of Grace Lulu Westcott Birks 1886-1965, covering Maine, Massachusetts, New Hampshire, England and Ireland.
Ancestral history, New York State from Lansing to Corning. Compiled by Mary Billington Liller.
Descendants of Isaac Braman (b.1769) mostly New York.
Family history Becky Kindt, from Germany to Ohio USA. Includes surnames Frey, Clephane and Simonin.
Pedigree originating in great Hayward and Colwich, Staffordshire, ENG.
Web community focusing on family research.
Family history and online community. Includes pedigree charts, anniversary calendar, and a private family section.
Ancestors and descendents of Judge John Berrien of Rocky Hill, New Jersey as compiled by Dennis Berrien. Includes stories, coat of arms, photographs, and family tree.
Family history compiled by Lois including the surnames Ousley, Rae, Stewart and Brandie. Also features collectables.
Origins and history of the name including various pedigrees.
Single name study including South East English origins.
Ancestors and descendants of Georges Pierre Marie Bausseron. Includes the surnames Chardon, Doyen and Vuilmet.
Ancestral research including spelling variation of Burnard in and around the UK.
Y-chromosome test to determine a common ancestor. Open to male participants from any country. Includes variant Bumpass.
General reference point for those researching the name and its application in America. Includes reunion details and links to applicable forums.
Web ring pertaining to the name and associated variants such as Brook, Brooke, Broox, Brookes, Brux, Brox and Esterbrooks.
Registered one name study. Statistics, records and author's family tree.
Oral and documented history with notes on Holstein-Stewart and Cooper.
Family history as compiled by Wes Klang. Features the descendants of Morton Bourn of Virginia, USA. Surnames include Bourn, Ashby, Boyce and Walk.
Banks - http://worldconnect.genealogy.rootsweb.com/cgi- bin/igm.cgi?op=SRCH&db=marionbmc
Descendants of Thomas V. Banks (b.abt.1842) married Martha Abbott. Compiled by Marion Banks McGee.
Family tree as compiled by Debbie Broderick.
Genealogy records:
Having trouble finding your family history records? Enter your Surname here!
Read news releases and articles concerning the latest Online family records:
Search over 600+ Historical Databases
Search for Genealogy records online!
Genealogy Search Tips - review 1
Getting started with Genealogy
Click to search about:
News Archives:
January 2006
Feburary 2006
March 2006
April 2006
May 2006
June 2006
July 2006
August 2006
September 2006
October 2006
November 2006
December 2006
More Resources
Additional information about the your Genealogy
Genealogy Records
Having trouble viewing your family history documents? Click here for FREE samples
(Acrobat Reader Required)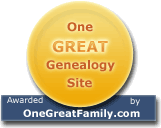 Research your
genealogy
at
OneGreatFamily!