Want to link to Free-genealogy.co.uk? Send an email HERE with your website URL. Don't forget to link back! (Due to amount of emails this could take a couple of weeks)
SITE LISTINGS >> Lineages and Surnames
Click the first name of your surname:
A, B, C, D, E, F, G ,H, I, J, K, L, M, N, O, P, Q, R, S, T, U, V, W, Y, Z
Edgeworths - about the Edgeworth family from Edgeworthstown, Co. Longford which included novelist Maria Edgeworth.
Edenfield - detailed historical information about the Edenfield surname.
Estrada - traces the origins of this surname.
Erland - dedicated to family histories including surname list, library list, and family booklets.
Elborn - information about the Elborn family in Canada, with a timeline and related surname list.
Earthy - also Arthy, Arthey, and Earthey.
Eddleman - descendants of David Eddleman born in 1765-70.
Eckhoff (1)
Eidhammer - Norwegian American relations and a dictionary containing Norwegian words related to genealogy and a searchable database.
Eardley - includes marriage certificates, deaths, births, family tree, and the 2000 Eardley family reunion.
Evans (1)
Evans Familiy History - also Collier, Birch, Fletcher, Spacey, Eley, Buckeridge, and Turfitt.
Ewing (1)
Edwards (2)
Eschbach / Eshbach - genealogical database of descendants of Christian Eschbach.
Elgin - database of descendant info for George Elgin b. 1674 Scotland and Elizabeth Adams b. 1680 MD. Copies of Colonial documents and 19th century photos.
Ehle - following families from New York to Wisconsin.
Edelman / Edelmann - also searching for Christy, Jackson, Jarrell, Bulmer, and others.
Ellington - including Griner, Thurman, Ludvik, Chandler, David, Dixon, Neuman, Steinberg, Babb & McClellan surnames.
Evensen - research on the family names of June, Key, Starrett, Stubbs with a searchable tree.
Ehrlich - family roots and Jewish genealogy.
Engelhardt / Warner - including Remington, Uhl, Reed, Workman, Wolfe and many more.
Etherton - includes information on Etherton, Allen, Huffine, and Lawson surnames.
Everett (2)
Eivers - combined history and family trees of Eivers/Evers emigrants. Includes name variants Heever and MacKeever.
Ellerton - includes family coats of arms and links to other researchers.
Evans / Bishop / Torrence - features descendent lists. Also includes the Cloninger, Branham, and Mangus families.
Ertmer - listing members of the family.
Eversole / Ebersole - researching all spelling variations.
Eidt - maintaining the Eidt family record in Canada. Also includes the spelling variation, Eydt.
Genealogy records:
Having trouble finding your family history records? Enter your Surname here!
Read news releases and articles concerning the latest Online family records:
Search over 600+ Historical Databases
Search for Genealogy records online!
Genealogy Search Tips - review 1
Getting started with Genealogy
Click to search about:
News Archives:
January 2006
Feburary 2006
March 2006
April 2006
May 2006
June 2006
July 2006
August 2006
September 2006
October 2006
November 2006
December 2006
More Resources
Additional information about the your Genealogy
Genealogy Records
Having trouble viewing your family history documents? Click here for FREE samples
(Acrobat Reader Required)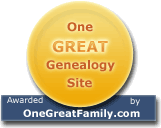 Research your
genealogy
at
OneGreatFamily!