Want to link to Free-genealogy.co.uk? Send an email HERE with your website URL. Don't forget to link back! (Due to amount of emails this could take a couple of weeks)
SITE LISTINGS >> Lineages and Surnames
Click the first name of your surname:
A, B, C, D, E, F, G ,H, I, J, K, L, M, N, O, P, Q, R, S, T, U, V, W, Y, Z
Kavanagh - overview of the origin and early history of the Kavanagh clan/family.
Kistler - includes coat of arms description and general history, photos, and links.
Kitces / Keces / Keses / Kitzes / Kitzis - family tree and significant events for the families. Also includes Charest, Pearson, Gordon, Westheimer, Greenwald, Simon, and Rohr.
Kizhanatham - dedicated to Kizhanatham V. Athinatha Iyengar and his family history. Includes background on Kizhanatham Village.
Kernke - researching the descendants of Christian Wilhelm Kernke from Lansberg, Prussia. Also includes the Scheffler, Hebbard, Schroter, Rosanack, Daum, Herfort, Nietke, and Trieves families.
Kenna - family tree and photos for the extended family of Kenna, Willette, Averett, Byrd, Cole, and Graves.
Kipnis - dedicated to the family's history.
Kippelman / Kipilman - documenting the family in America since the 1899 arrival of Max Kipilman from Kolki, in present-day Ukraine. Includes guestbook, virtual cemetery, photos, and links.
Kelly (3)
Kerchner - discusses the ancestry of the family in Lehigh County, (Allentown area), PA.
Kinsella - contains historical and genealogical information as well as a bulletin board and related links.
Kouklis / Kouklakis / Angavanakis - of Crete, Greece and the USA. Family history, photographs and lineage.
Kuykendall (1)
Kyle - also covering the surnames Webster, Davis, Anderson, Hagerman, Tyree, Irving and Pettus.
Keith (3)
Kiff - one name study of the surname including newsletters.
Kirkpatrick - variations of Kilpatrick, Killpatrick, and Gilpatrick.
Kennamer - information about the family, with a special emphasis on their history in North Alabama.
Kurudamannil - traces the origins of the family from the first century.
Kinsman - provides descendant outlines for Kinsman, Daugherty, Delbridge, Gill, and others.
Koon / Lomax / Quattelbaum - Lineages for Benedictus Kuhn, William Lomax, Jacob Keller, Henry Dominick and Peter Quattelbaum.
Kean - family tree of the Keans from Bonavista Bay, Flower's Island and Pool's Island, Newfoundland.
Kirkwood - Descendents of Alexander Kirkwood (1823-1901).
Knappenberger - spellings include Knuppenburg, Knappenberg, and Knappenburger.
Kennedy / Dennis / Flanagan - also Hull, Jarvis, Klahn, Maddy, and more.
Kerry - also King, Lukes, and Hutcheon in the counties of Kent, Suffolk, and Norfolk.
Kinkade (1)
Knoblauch / Knobloch / Knoblock - dedicated to sharing information/queries on these family names.
Keser / Kiser - dedicated to tracking down the family line. Includes a chat room of Keser / Kiser family memebes.
Keys - also researching the alternate spellings: Key, Keye and Keyes.
Knippenberg - family tree and history of castle Knippenberg.
Kellogg - tracing the family from the early 1600s in Massachusetts, and Illinois to California in 1846.
Kyger - descendants of Christian Geiger 1700 - 1779.
Kitching - researching surnames: Kitchen, Kitchin, Gerhard, Gerrard, Dubery, Dewberry, and Willis.
Kluge - information about the Kluge Family in Denmark, Germany and the USA; searching descendants world-wide; links to Danish and German addresses.
Kuzniewski / Kneski - origin of the name, extended family tree, and family history.
Kyler - dedicated to Kylers and Kyler genealogy.
Knaiger / Kniager - members that originated from Russia in the early 1900s and settled into New Hamshire.
Kreitlow - includes names, dates, and family essays.
Krueger - other surnames include: Werner, Stuntz, Gloth, Whipple, Lothrop, Dane, Faulkner, Crosby, Brackett, and Goodenow.
Kerlin - dedicated to researching genealogical information on the family surname.
Kletke / Durham - for the families which come from Oklahoma and Colorado.
Koistinen - interactive research/communication site for Koistinens around the world.
Kondrup - tracing descendants who emigrated from Denmark and settled in England and the northeastern United States, including New Jersey, Massachusetts, and New Hampshire.
Kaye - traced back to late 1600's in Belgium including the surnames: Capiaux, Gillard, Gerard, Knap, Stordeur, and more.
Krenn - Fischer, Voiland, Weller, May, Webber, and others.
Kueber - also includes Wade, Rischette, and related families.
Karlinsey - includes name origin and links to family records.
Klee / Boock - genealogy and family history of the Klee and Boock families in New Zealand. Also with information on the names: Williams, MacLean, Reid, Himes, Foley, and Bennetts.
Kenyon - family genealogy.
Keller (1)
Karr - includes genealogical and historical information for the families of John C. Karr and Rev. Thomas Moore, early pioneers of White County, Indiana.
Kendall - documenting the Kendalls from the fifteenth century to the present. Also includes information about the Anderson, Pigman, and Bowen families.
Kilgo - devoted to Kilgo families in Georgia, Alabama, and Tennessee. Also includes history of the Kilgore surname.
Kreuser - traces the ancestors of John Andrew Kreuser.
Genealogy records:
Having trouble finding your family history records? Enter your Surname here!
Read news releases and articles concerning the latest Online family records:
Search over 600+ Historical Databases
Search for Genealogy records online!
Genealogy Search Tips - review 1
Getting started with Genealogy
Click to search about:
News Archives:
January 2006
Feburary 2006
March 2006
April 2006
May 2006
June 2006
July 2006
August 2006
September 2006
October 2006
November 2006
December 2006
More Resources
Additional information about the your Genealogy
Genealogy Records
Having trouble viewing your family history documents? Click here for FREE samples
(Acrobat Reader Required)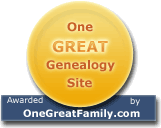 Research your
genealogy
at
OneGreatFamily!