Want to link to Free-genealogy.co.uk? Send an email HERE with your website URL. Don't forget to link back! (Due to amount of emails this could take a couple of weeks)
SITE LISTINGS >> Lineages and Surnames
Click the first name of your surname:
A, B, C, D, E, F, G ,H, I, J, K, L, M, N, O, P, Q, R, S, T, U, V, W, Y, Z
OLochlainns Irish Families - home of the Irish Genealogical Foundation and Olochlainns Irish Family Journal, free listing and bulletin board online.
O'Kelly - research your Irish roots and discover Irish genealogical links.
Oster - also including: Galliano, Kennedy, and Hickman families.
O'Dea - also spelled: O'Day, Dee, or Day, includes family history, current news, and genealogical queries.
Overend
Orth - family history of Johann Peter Orth, born 1818, in Furstengrund, Hessen, Germany, and died in 1893 in Wallace Township, Perth County, Ontario, Canada.
Ouimet - Internet home of Les Descendants de Jean Ouimet, Inc.
O'Mahony - with membership and event information.
O'Brien - formed to promote the interests of all O'Briens who are descended from their progenitor, Brian Boru.
Ohmer - genealogical research of the surname.
O'Keeffe - features a comprehensive family tree of Georgia O'Keeffe.
Olive - genealogy, history, reunions, coat of arms.
O'Connor - family research and genealogy links.
O'Flaherty - for history, genealogical questions, and contacts with other familiy members.
Oglesby - also Anderson, Barker, Carpenter, Crawford, Druehl, Ellis, Hite, Kinzel, Lawhon, Meriwether, Naumann/Norman, Thornton and Yundt.
Ohnmacht - McKercher Families of northeast Pennsylvania and Upstate New York.
Oravecz - dedicated to families with variants of this surname. Including Oravec, Oravetz and others.
O'Hearn - dedicated to the exchange of genealogical information from people around the globe searching the surname O'Hearn.
O'Roughan - O'Ruadhain, Roan, Roughan, Rowan, Ruane genealogy, family history, pedigree and surname history.
Oldham (2)
Olzheim - in Dutch.
Ortenburger and Hackstock - family history in the USA, Germany, Silesia, and the Russian Empire.
Olree - also including: Evans, Hijman, Hymen, McCoy, Parker, Kislowski, and Malasinski.
Odden - gedcom files, pictures, and maps of family genealogy.
Oliver - with family tree and some photos.
Ogle / Tasker / Ridout / Tayman - also Tayloe and Carter. Traces the genealogy of these Maryland, Virginia, and Washington D.C. families.
Owens - tracing the descendants of Nathaniel Owens and Rebecca Massey.
O'Neal - other surnames include: Carden, Cockriel, Ensor, Foy, Goodling, Isbelle, Moore, Paysinger, and Wheeler.
Openshaw (1)
Oulton - also Dyke, Winnard, Sinclaire, Rigby, Raper, Crook, and Jolley.
Genealogy records:
Having trouble finding your family history records? Enter your Surname here!
Read news releases and articles concerning the latest Online family records:
Search over 600+ Historical Databases
Search for Genealogy records online!
Genealogy Search Tips - review 1
Getting started with Genealogy
Click to search about:
News Archives:
January 2006
Feburary 2006
March 2006
April 2006
May 2006
June 2006
July 2006
August 2006
September 2006
October 2006
November 2006
December 2006
More Resources
Additional information about the your Genealogy
Genealogy Records
Having trouble viewing your family history documents? Click here for FREE samples
(Acrobat Reader Required)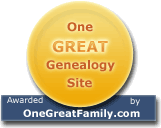 Research your
genealogy
at
OneGreatFamily!