Want to link to Free-genealogy.co.uk? Send an email HERE with your website URL. Don't forget to link back! (Due to amount of emails this could take a couple of weeks)
SITE LISTINGS >> Lineages and Surnames
Click the first name of your surname:
A, B, C, D, E, F, G ,H, I, J, K, L, M, N, O, P, Q, R, S, T, U, V, W, Y, Z
Tracey Clann Origins, history and genealogy of the Tracey, Tracy,
Treacey, Treacy family name in Ireland.
Thorn / Thorne - also Coutant.
Teague - also Tyack(e), Teage, Tigue, Tague, and Teg(g).
Teskey - for the genealogy of the Teskey family of Irish Palatine descent.
Tyler - researching the descendants of John Tyler in New England from the 18th Century to the present.
Turk / Turc / Turck - also Turcq and Turque.
Theriault - history of the Acadian family in North America, with particular details of the Joseph T. Theriault family of the St. John River Valley.
Tatum (1)
Tir na nO'Gara - dedicated to Genealogy and History of the Irish Clan O'Gara.
Toscani - devoted to all the people who carry the surname.
Turner (4)
Tonge (2)
Townsend - dedicated to the preservation and research of American history, particularly as it pertains to the Townsend family.
Tilbury - The Tilbury Magazine with genealogy, history, news, demography and links for the surname.
Tinney - families and connections, with spelling variations of: Teny, Tenney, Tennison, Tennyson, Tinne, Tinning, Tynne, Tynney; the metal tin.
Titchenal - from Martin Titchenor's arrival in 1644 through the westward expansion to the global village of today, 13 generation of Titchenals have participated in United States history.
Tenney - dedicated to those who came before, leaving a heritage and a name to be proud of.
Tooker - genealogy collective for the Tooker/Tucker clan.
Truax / DuTrieux - family history since Philippe imigrated in 1624, with two coat of arms and diagrams over five generations.
Tanner - genealogies of over 6500 individuals mainly from the southern United States.
Tremble / Sawyer - includes: Trimble, Trembly, Radley, Richardson, Laws, Jones, Dunham, and Noe.
Trude - research for this surname and the alternate spelling, DeTrude, with biographies, photographs, census data and links.
Tevault - also Warren, Starks, Simpson, Slabaugh, and Hayden.
Toney - for researchers of the "Toney" surname to exchange GEDCOM files, links and any other information that might be useful to others in tracing the Toney family tree.
Tyzack - Tyzack and Henzell family genealogy. Includes English Civil Registration databases.
Test - dedicated to descendants of John Test (1651-1706). Arrived in New Jersey as part of Fenwick Colony in 1675.
Tyree - contains family trees for several Tyree families.
Toops - ancestors and others in our lineage such as: Schoonover, Greenwell, Dehart, Smith, Boone, Savula, Shannon, Moore, Robbins, Peebles, and more.
Taylor (1)
Tormey - collection of historical articles and genealogical information on the Tormey surname.
Tompkins - also including the surnames: Nill, Muter, Wick, Riddle, Fish, Haddox, Bindon, and Vossler.
Terwilliger - generations of families from Holland to the West Coast of the U.S.
Tuttle - dedicated to the descendants of J.M. Tuttle and Alice Idella (Purinton) Tuttle.
Tonsing / Bernard - also researching Toensing, Walker, Martin, Challiss, Pittenger, Patterson, Farmer, Thompson, Ford, Damron, and other surnames.
Turteltaub - history of the Turteltaub, Turkeltaub, Tarkeltaub, Turell, and Turtledove surnames.
Toothaker (2)
Thomas (2)
Tootell - an effort to link the histories of this surname.
Titterton - anyone interested in the surname's history should find this site of interest.
Touzel - examines the family roots, history, and people.
Turford - dedicated to the tracking and linking with Turfords around the world.
Tarpey - devoted to the Tarpey family, based in Lexington, KY.
Thacker - provides transcripts of archival documents, family portraits, locations, name origins, and more.
Tavendale - genealogy of David Tavendale from Aberdeenshire, Scotland.
Travis - dedicated to the descendants of Murray and Dinah Travis, especially their sons William H. and Murray A. Travis.
Thomas Williams of Gnossall - ancestors and descendants through 10 generations.
Tullio / Gardom - offering family histories and requesting any additional information.
Tarry / Maskell - tracing the Tarry and Maskell lines from the mid-eighteenth century.
Trulsas - family which originates from the Sweden.
Tavenner - features family background and a profile of Helen Steiner Rice.
Genealogy records:
Having trouble finding your family history records? Enter your Surname here!
Read news releases and articles concerning the latest Online family records:
Search over 600+ Historical Databases
Search for Genealogy records online!
Genealogy Search Tips - review 1
Getting started with Genealogy
Click to search about:
News Archives:
January 2006
Feburary 2006
March 2006
April 2006
May 2006
June 2006
July 2006
August 2006
September 2006
October 2006
November 2006
December 2006
More Resources
Additional information about the your Genealogy
Genealogy Records
Having trouble viewing your family history documents? Click here for FREE samples
(Acrobat Reader Required)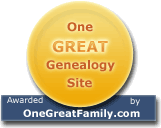 Research your
genealogy
at
OneGreatFamily!