Want to link to Free-genealogy.co.uk? Send an email HERE with your website URL. Don't forget to link back! (Due to amount of emails this could take a couple of weeks)
SITE LISTINGS >> Lineages and Surnames
Click the first name of your surname:
A, B, C, D, E, F, G ,H, I, J, K, L, M, N, O, P, Q, R, S, T, U, V, W, Z
Whitney - home of the Whitney Research Group (WRG).
Wannall - includes biographies, links, chat rooms, a bulletin board, photographs, and more.
Wert - with information on Wirt, Wertz, Wirth and other spellings.
Woolman - dedicated to the documentation of Woolman descendants and to the preservation of the spirit and legacy of the 18th century Quaker and abolitionist John Woolman.
Weedin - Internet source for family information and history.
Wiser - family genealogy with pictures and references to other sites and surnames.
Wishart - provides historical information.
Walvoord / Walvoort - family that emigrated from the Netherlands to Wisconsin and Nebraska. Includes biographical stories and photos.
Walsh - The Walsh Family Tree
Wurtz - family genealogical site for the descendants of Wilhelm Wurtz. Alternative spellings include: Verts, Vertz, Virts, Virtz, Werts, and Wertz.
Wheelock - family genealogy in the United States, with an emphasis on the Mefield and Charlton, MA and Hamburg NY lineage.
Wheeler - ever expanding James Stonewall Wheeler family tree.
Wilkins / Wilkens - researchers, message boards, links to Wilkins information on the Internet.
Woody - family genealogy web site.
Waller - Origin of the Waller Family
Wagner- The Wagner Family overview
Werlen - documenting the Obergoms line of the family from the 14th century to the present, including members of the Swiss Guard.
Werlen family history - Family history in English, German and Italian. Family tree since 1340. Contribution to the Vatican Swiss Guard. Homeland picture gallery.
Wingfield - heraldic genealogical organisation which researches and disseminates historical information about Wingfield descendants worldwide.
Wilson- Wilson family history for Scotland, New Zealand and Australia
White- The White Family History, crest and photos.
Williamson - Williamson Family Tree detailed down in family tree format
Wood - the Wood and Damann family history, with more than 650 surnames. Family pictures and stories.
Watson- The Watson Family Tree Website. Register to see living relatives for further information
Wedgwood - genealogy and biography; the famous and the not so famous.
Weeks- Weeks Family History from Ireland
Williams- Welcome to the Williams genealogy site. Join us as we guide you through the history of the descendants of Matthew Williams who settled in Weathersfield Connecticut in the early 1600's
Whitworth- The Whitworth Family Association has released a 650-page book highlighting the history of the Whitworth Family. Included is a 7-generation descendancy chart of John Whitworth, born about 1673.
Whitley - message board, genealogy and links for the surnames Hudson, Horton, Rodgers, Lumpkin, Watkins, and more.
Westaway - family of Prince Edward Island.
Wynn - for researching Winn, Wynne descendants of Dr. Thomas Wynne of Philadelphia & their Associated Families: Abraham, Ashcraft, Dunwoody, Totten and Timbrel.
Wheatley - also Andis, Barker, Barton, Callow, Case, Childs, Davis, Denney, Donald, Donat, Kingery, Merrill, Newbound, Smith, Southard, Speagle, and Waddle.
Wicks - also McElroy; includes information about the Piney Woods Research Services and The Piney Woods Newsletter.
Whisnant - including the various spellings: Whisenant, Whisonant, Whisante, Whisenhunt, Whisenhant, Whisnand, Whisenand, Whisennand, and Visinand.
Woodworth - descendants of Walter Woodworth, born about 1612, who immigrated to Scituate, Massachusetts about 1630.
Wagnon / Gamblin - surnames include: Huffines, Barber, Swindell, Hamilton, Cartwright, Leaverett, Green, Roberts, Davidson, Selvidge, Harris, Essary, Craft, Elledge, Rodgers, Perrin, Finley and Osborn.
Waters - other surnames include Cooley, Johnston, O'Brien, Westbury, Watson, Gibson, Means, Lawrence, Osborne, Ford, Howland, Ford, Campbell, MacDougall, and Cardiff.
Webre - documenting the family from 1721 through the present. Includes photographs, documents, and records.
Walbert - researching the ancestors of Lucy Ann Walbert born in 1848; other related names: Derr, Mohr, Boger, and Kerchner.
Wells - research on the Wells, Schaffer, Decker, Crane, Vroman and Schrader families.
Whitten - descendants of brothers Pleasant and Austin Whitten from Winston County, Mississippi.
Willyoung - information on or concerning the lineage of the surname.
Wortman- The Wortman family in North America
Wortman- Links for the Wortman family including Wortman variations
Whatley - family tree complete with biographical profiles.
Wissinger - contains surname history, coat-of-arms, and a list of contributors.
Widrig - descendants of Michael Widrig (1735-1777); constantly updated for information provided by Widrigs worldwide.
Wilcox - surnames include Conway, Craig, Grening, Keilmann, Koster, Lieske, Lund, McIntosh, Plotts, Porter, Rader, Schmidt, Stoltafuhs, Tuyt, van Duinwyk, van Spall, Volktman, Wolfe.
West- The West Family History Tree, sometime of Sibsey, Lincolnshire
Willden - genealogical database of Willden and related family members, plus histories and biographies.
Wilburn - with alternate spellings Wilborn and Willborn.
Willig - for Willigs researching their roots.
Whitty - offers clan history, event listings, and a memorial section.
Willingale - also Wright, Savill, Murrell, Burles, and more.
Ward- Ward Family History Site
Wright- The Wright family tree
Watkins- The Watkins Family History site
Walsh Family - dedicated to the family living in North Wales, U.K.
Willemssen - factual and chronlogical description of the family, which includes information on trees, maps, histories, bios, and albums.
Woodham / Beasley - southern families including Alday, Beasley, Beverett, Brown, Crowson, Johnson, Odom and others
Wilborn - also including: Wilburn, Willborn, and Willburn.
Winwood - provides information about family from Norfolk, Suffolk, Shropshire, and other parts of the U.K.
Walls - research also includes the Wiwatowski, Holbrook, and Zegan family lines.
Wescott - includes the Wescott and Maclay families.
Whitaker - family histories, variant surname spellings, coats of arms, and prominent Whitakers in history.
Webb Settlers - westward journey of a southern farming family. Features biographies of Hiram Webb and his children.
Webster - Burston, Shoobridge, and Crosse families.
Wardill - traces the family genealogy by descendants of John and Elizabeth Wardill.
Westropp - from Edward de Westhorpe, of North Yorkshire, England in 1250, to present.
Welsh and Miller - tracing the family tree from Kentucky couple Walter Pendleton Welsh and Catherine Amelia Anna Miller.
Walker- The Walker Family History project
Whaley - features 17th-century deeds and other documents related to Theophilus Whaley in Rappahannock County, Virginia; his life in Rhode Island; and possible connection to Edward Whalley and William Goffe.
Whitlock - from Ohio, Kentucky, and Virginia.
Wilbers - family tree of Maarten Wilbers.
Weithase - online history of the Gerd Weithase family around the world.
Wilberding - tracing the descendants of Carl Joseph Wilberding from Oldenberg, Germany, in the 1700s to the Iowa in the 1950s.
Wallace- The Wallace Clan Family History
Genealogy records:
Having trouble finding your family history records? Enter your Surname here!
Read news releases and articles concerning the latest Online family records:
Search over 600+ Historical Databases
Search for Genealogy records online!
Genealogy Search Tips - review 1
Getting started with Genealogy
Click to search about:
Old News Archives:
January 2006
Feburary 2006
March 2006
April 2006
May 2006
June 2006
July 2006
August 2006
September 2006
October 2006
November 2006
December 2006
2007 Archives
2008 Archives
2009 Archives
2010 Archives

More Resources
Additional information about the your Genealogy
Genealogy Records
Having trouble viewing your family history documents? Click here for FREE samples
(Acrobat Reader Required)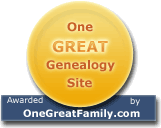 Research your
genealogy
at
OneGreatFamily!