Welcome to the Norfolk County, Town and Parish page
Norfolk
A county of England, lying on the German Ocean; bounded by Cambridgeshire, Lincolnshire, and Suffolk. It extends 70 miles in length and 40 in breadth. It contains 33 hundreds, 1 city, 32 market towns, and 660 parishes. The face of this county varies less than in most tracts of equal extent in England. Not one hill of any considerable height is to be seen in the whole county; yet, in most parts, its surface is broken into gentle swells and depressions. At the western extremity is a considerable tract of flat fenny land, which is part of the Bedford Level; and, on the east, a narrow tract of marshes runs from the sea, near Yarmouth, to some distance up the country. Between Lincolnshire and the western extremity, is a broad but shallow arm of the sea, called the Wash. [Barclay's Complete and Universal English Dictionary, 1842]
| Title | Category | Places | Name Count Estimate |
| --- | --- | --- | --- |
| Norfolk, England: Parish and Probate Records | Birth, Marriage & Death | England; United Kingdom; Norfolk; Europe | 148,238 |
| Norfolk, Virginia Directories, 1888-1891 | Directories & Member Lists | USA; Virginia; Norfolk | 57,374 |
| Norfolk County, MA Probate Index 1793-1900 | Court, Land, Wills & Financial | USA; Massachusetts; Norfolk | 43,646 |
| Essex, Suffolk, Norfolk, and Cambridgeshire, England 1892 | Dictionaries, Encyclopedias & Reference | England | 30,800 |
| History of Norfolk County, Massachusetts : with biographical sketches of many of its pioneers and prominent men | Stories, Memories & Histories | USA; Massachusetts; Norfolk | 19,176 |
| History of Norfolk County, Massachusetts, 1622-1918 | Stories, Memories & Histories | USA; Massachusetts; Norfolk | 14,314 |
| History of Norfolk, Litchfield County, Connecticut | Stories, Memories & Histories | USA; Connecticut; Litchfield | 11,951 |
| Sherman genealogy, including families of Essex, Suffolk and Norfolk, England : some descendants of the immigrants, Captain John | Stories, Memories & Histories | USA | 9,537 |
| Historical and descriptive sketches of Norfolk and vicinity | Stories, Memories & Histories | USA; Virginia | 8,364 |
| Lower Norfolk County, Virginia Court Records: Book "A" 1637-1646 and Book "B" 1646-1651/2 | Court, Land, Wills & Financial | USA; Virginia | 8,126 |
| Norfolk, Litchfield County, Connecticut, 1744-1900 | Stories, Memories & Histories | USA; Connecticut; Litchfield | 8,118 |
| Norfolk County, Virginia Will Abstracts, 1710-1753 | Court, Land, Wills & Financial | USA; Virginia; Norfolk | 8,116 |
| Le Strange records : a chronicle of the early Le Stranges of Norfolk and the March of Wales, A.D. 1100-1310 : with the lines of | Stories, Memories & Histories | USA | 7,327 |
| Visitations of Norfolk, 1563 and 1613 | Stories, Memories & Histories | England; United Kingdom; Norfolk; Europe | 6,664 |
| Notes and extracts from numerous authorities respecting the family of Bukenham or Bokenham of Norfolk and Suffolk | Stories, Memories & Histories | USA | 6,511 |
| One generation of a Norfolk house : a contribution to Elizabethan history | Stories, Memories & Histories | England | 5,899 |
| The homes and haunts of Henry Kirk White : with some account of the family of White, of Nottingham and Norfolk | Stories, Memories & Histories | USA | 5,049 |
| The history of Norfolk, Virginia | Stories, Memories & Histories | USA; Virginia | 4,896 |
| A history of Horstead and Stanninghall, Norfolk | Stories, Memories & Histories | England; United Kingdom; Norfolk; Europe | 4,454 |
| Some memorials of the family of Roberts of Queen's Tower, Sheffield and Cockley Cley, Swaffham, Norfolk : as exemplified by ki | Stories, Memories & Histories | USA | 3,893 |
| Genealogy and history of the Norfolk McCall family and associate descendants, 1796-1946 : typescript, | Stories, Memories & Histories | USA | 3,723 |
| Inventory of city and town archives of Massachusetts, no. 11, Norfolk County. | Stories, Memories & Histories | USA; Massachusetts; Norfolk | 3,128 |
| The Ketts of Norfolk : a yeoman family | Stories, Memories & Histories | USA | 2,822 |
| The Calls of Norfolk and Suffolk : their Paston connections and descendants | Stories, Memories & Histories | USA; England | 2,414 |
| Lower Norfolk County, 1651-1654 | Stories, Memories & Histories | USA; Virginia | 1,853 |
| Inventory of city and town archives of Massachusetts, no. 11, Norfolk County. | Stories, Memories & Histories | USA; Massachusetts; Norfolk | 1,411 |
| Virginia Land Patents of the Counties of Norfolk, Princess Anne & Warwick | Court, Land, Wills & Financial | USA; Virginia | 1,360 |
| Inventory of city and town archives of Massachusetts, no. 11, Norfolk County. | Stories, Memories & Histories | USA; Massachusetts; Norfolk | 1,326 |
| Wrentham and Norfolk, Massachusetts Directory 1890 | Directories & Member Lists | USA; Massachusetts; Norfolk | 1,020 |
| The early history of the medical profession in the county of Norfolk, Mass. | Stories, Memories & Histories | USA; Massachusetts; Norfolk | 816 |
| Pedigree of the family of Upwood of Lovell's Hall, Terrington St. Clement's, Co. Norfolk | Stories, Memories & Histories | USA | 306 |
| The Tuthill family of Tharston, Norfolk County, England and Southold, Suffolk County, New York | Stories, Memories & Histories | USA | 204 |
List of Monumental Inscriptions for Norfolk Parishes
This is part of the Norfolk FHS Monumental Inscriptions Project, but has been taken offline.
These societies cover Norfolk, or an area of the county. There are many societies for individual towns and villages.
Genealogy records:
Having trouble finding your family history records? Enter your Surname here!
Read news releases and articles concerning the latest Online family records:
Search over 600+ Historical Databases
Search for Genealogy records online!
Genealogy Search Tips - review 1
Getting started with Genealogy
Click to search about:

News Archives:
January 2006
Feburary 2006
March 2006
April 2006
May 2006
June 2006
July 2006
August 2006
More Resources
Additional information about the your Genealogy
Genealogy Records
Having trouble viewing your family history documents? Click here for FREE samples
(Acrobat Reader Required)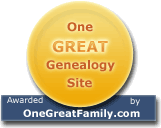 Research your
genealogy
at
OneGreatFamily!