US Free Genealogy >> US Free Genealogy Databases
Looking for US Free Genealogy - Here at Free Genealogy we're not just UK focused, we're interested in helping find the best Free Genealogy resouces from around the world and in that search we thought it's about time we added a US focused Genealogy section. From this page, you'llbe able to check out the latest US Free Genealogy links to databases, US genealogy articles, sites and more. Happy Genealogy hunting.
1880 United States Fedral Census (Free to search)
This is a census of the U.S. population as of 01 June 1880. Learn where your ancestors lived, who lived in the household, ages, places of birth, occupation, and more. It's free to search
If you're looking for more information on the 1880 United States Fedral Census then read Free Genealogy guide to the US 1880 census here
U.S. Federal Census Mortality Schedules, 1850-1885
Part of the U.S. Federal Censuses from 1850-1880 included a mortality schedule enumerating the individuals who had died in the previous year. Because each of the censuses from 1850-1880 began on June 1, "previous year" refers to the 12 months preceding June 1, or June 1 (of the previous year) to May 31 (of the census year).
This database contains an index to individuals enumerated in these mortality schedules. In addition, each individual is linked to the census image on which they appear. Not all information that is recorded on the actual census is included in the index. Therefore, it is important that you view the image on which your ancestor is recorded to obtain all possible information about him/her. This database often included the names of the slave owners whose slaves had passed - please search in the 'Other' field to locate slave owners. Search the US Fedral Census Mortality Schedules, 1850-1885 for Free here
U.S. Census Records and Voter Lists
Census records are a cornerstone of family history research and Ancestry.com has the only complete online collection of U.S. Census Records (1790 – 1930).
U.S.: 1930, 1920, 1910, 1900, 1890, 1880, 1870,1860, 1850, 1840, 1830, 1820, 1810, 1800, 1790
Have you got links to sites for US Free Genealogy? Make sure to drop Free Genealogy a line with your links
Genealogy records:
Having trouble finding your family history records? Enter your Surname here!
Read news releases and articles concerning the latest Online family records:
Search over 600+ Historical Databases
Search for Genealogy records online!
Genealogy Search Tips - review 1
Getting started with Genealogy
Click to search about:
Old News Archives:
January 2006
Feburary 2006
March 2006
April 2006
May 2006
June 2006
July 2006
August 2006
September 2006
October 2006
November 2006
December 2006
2007 Archives
2008 Archives
2009 Archives
2010 Archives

More Resources
Additional information about the your Genealogy
Genealogy Records
Having trouble viewing your family history documents? Click here for FREE samples
(Acrobat Reader Required)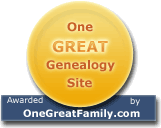 Research your
genealogy
at
OneGreatFamily!